For DTX Version 2.78 Software.

Looking for somewhere to purchase additional SD/MMCs?

A common question asked is "how many test results can I store in the internal memory for the DTX Series?" This will depend on which test standard has been selected, since a Category 6 Autotest contains over 68,712 measurements, whereas a 10GBASE-T measurement contains over 100,212 measurements.

The DTX-1200 & 1800 will accept MMCs to 128 MB and SD/MMCs to 2 GB. It will not support SDHC cards.


Fluke Networks does not normally recommend one brand of vendor for SD/MMCs. However, we have observed that SanDisk cards typically perform better than other cards.

The following figures are approximate. In most cases, you will be able to store more Autotests than the figures stated below. The maximum allowable number of folders is 20. You cannot store more than 2000 results per folder. Anyone thinking of doing this should click here first. If you decide to disable the storing of plot data, you can store 1800 results to the internal memory.

Stop Press: Just finished saving 30,694 Category 6A results to a 2GB SD/MMC.

* Windows 98 users are limited to 64 MB.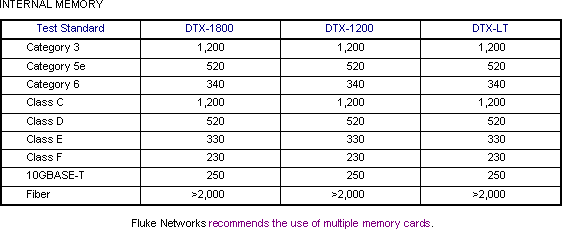 If you have a 64MB Memory Card, you can save thousands of test results. Just imagine if you then lose that memory card! That is why Fluke Networks recommends saving no more than one days worth of test results per memory card.


* Maximum number of results per folder is 2000.