Link Adapter Count - DTX CableAnalyzer
Historically, customers have been concerned about the aging of both the test lead and the personality module at the end of the lead. You can inspect the personality module for wear and tear. If obvious wear and tear is visible, such as worn contacts, it may be time to consider replacing the personality module.

The test lead is made from a cable designed by Fluke Networks to ensure that it has no impact on the permanent link measurements, as defined in the industry standards such as ANSI/TIA-568-C.2 and IEC61935-1.

A microchip has been placed inside each test lead head. This microchip contains several sets of data including calibration constants, used for eliminating the test lead from the measurement. In addition to this the microchip holds an Autotest count. Every time an Autotest is run, the test lead count will be updated by a count of one (1). This feature should better help manage your tester inventory.

To see the test lead count, rotate the dial to SPECIAL FUNCTIONS and select Version Information. An example screen is shown below: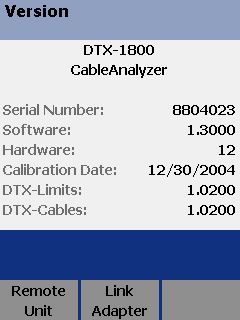 Pressing

Link Adapter will display the test lead count. Again, an example is shown below.

Note: With the DSP Series the count is stored in the personality module. With the DTX Series the count is stored in the test lead.

After reading this article, click here for a new feature in Version 1.4 (Current Version is 2.78)