Length - DTX CableAnalyzer
Common Questions



Specifications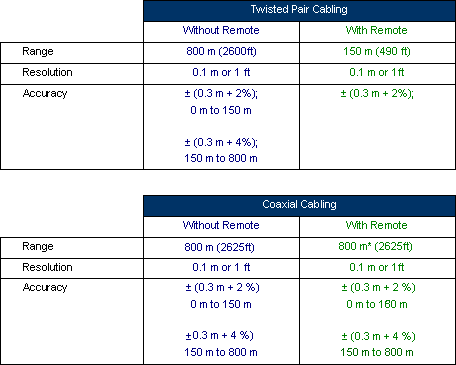 * With an NVP of 80 %






The length limit is missing?

Example 1:




You will notice that there is no length limit on the above screen. In this example the test limit chosen was ISO11801 PL max Class E. The International and European Standards do not require length for compliance.

The active equipment is not concerned about the physical length, only that the length related parameters insertion loss, propagation delay, delay skew and dc loop resistance are within specification. This is why length is not a requirement in ISO/IEC 11801:2002 and EN50173:2002.


From the industry approved cabling standard ISO/IEC 11801:2002
In Table B.1, the type of test to be carried out for each channel or permanent link is indicated by an "I" (informative) or "N" (normative). Parameters, which are computed from the measured parameters, are indicated by a "C". The tests indicated by I may be carried out as part of an acceptance test. The tests indicated by N shall be carried out as part of an acceptance, reference or compliance test.

Table B.1 - Cabling characteristics of copper and optical fibre cabling for acceptance, compliance, and reference testing.




In Table B.1 above, the type of test to be carried out for each channel or permanent link is indicated by an "I" (informative) or "N" (normative). Parameters, which are computed from the measured parameters, are indicated by a "C". The tests indicated by I may be carried out as part of an acceptance test. The tests indicated by N shall be carried out as part of an acceptance, reference or compliance test.

Back to top of document





I set the NVP incorrectly. Have far off is my length reading?
The NVP setting affects the length measurement and NO other parameter. The table below gives you an indication of the additional inaccuracy created on a maximum length with the incorrect setting for NVP.

Cable Length vs. NVP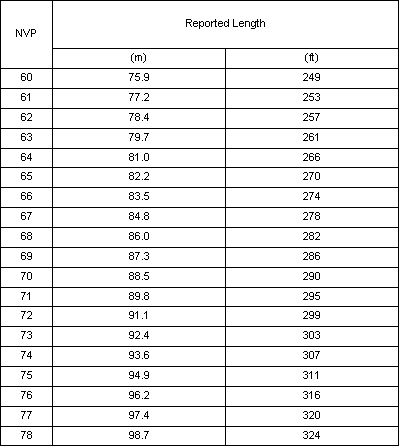 The active equipment is not concerned about the physical length, only that the length related parameters insertion loss, propagation delay and delay skew are within specification. This is why length is not a requirement in ISO/IEC 11801:2002 and EN50173:2002. Do not get overly stressed out about this. If you should set the incorrect NVP in the tester, it is not the end of the world. Explain to the customer that the application will still work so long as all the other parameters are met. Feel free to refer them to this document.

Back to top of document