How many insertions can I do with the DTX-PLA002?
The official specification is; "typically greater than 5,000 insertions".

Replace the tips when test result margins begin to shrink or if a tip is physically damaged. The Autotest counter on the tester's version information screen is useful for tracking the number of insertions.

We gave an installer a set of DTX-PLA002s last year before the official launch as a long term tester. I recently replaced his set with a new one. We were somewhat shocked (pleasently surprised) when we interrogated the Adapter Count on his DTX-PLA002: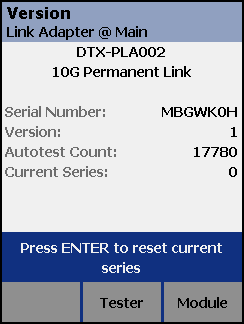 A visual inspection showed no significant deteriation (shown below) after at least 17,780 insertions:
However, the official specification for the DTX-PLA002 is still "typically greater than 5,000 insertions". And don't forget, when it does eventually wear out, you can replace just the tips and not the whole test lead. It may well be worth investing in this new DTX-PLA002 even if you are still testing Category 5e/Class D or Category 6/Class E. If you are installing Category 6A, you may wish to read this.