Bad patch cord at main / remote reported on DTX CableAnalyzer
NOTE: If you are testing using a 500 MHz test limit, please update your testers first.
When running an Autotest using the Channel Adapters, you may see Bad patch cord at main or Bad patch cord at remote.
An example screen is shown below:



The cause is a poor (twists not maintained) RJ45 plug termination on the patch cord.
This patch cord was not certified.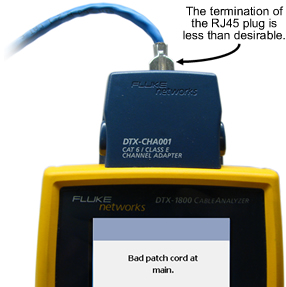 The standards require tester manufacturers to remove the effects of the Channel Adapter.
That includes the RJ45 plug inserted into the Channel Adapter.
What happens if that RJ45 plug is not terminated well? Nothing. So long as the rest of the link is ok, we should report a PASS.
However, the DTX CableAnalyzer will detect a poorly terminated patch cord.
The DTX CableAnalyzer takes a look in the Time Domain to see how good/bad the NEXT is in just the Channel Adapters.
If it exceeds a pre-dertimed level*, it will not implement the Channel Adapter cancellation and give the warning above.
Solution to Bad patch cord message - replace/fix the patch cord.

* Predetermined level
The trigger value is 34 dB @ 100 MHz in the Channel Adapter for Category 5e and 6. This is quite a relaxed value. To trigger this warning, the termination of the RJ45 plug must be significantly less than desirable. For Category 3, this is relaxed even further to 25 dB @ 100 MHz. For Class F, it is set to 52 dB @ 100 MHz. We implemented a new trigger value of 28 dB @ 100 MHz for Category 6A / Class EA in Version 2.22. It was previously set at 34 dB which was too sensitive.