In August 2019 DSX-602 was released and available for purchase.
Which version of LinkWare PC works with DSX-602?
LinkWare PC version 10.3 will recognize DSX-602 imported test result data.
DSX-602 started shipping with firmware 6.3 build 3.
Does the DSX-602 ship with Permanent Link Adapters?
It depends on the model purchased. If you buy DSX-602-PRO, it does ship with DSX-PLA004 Permanent Link adapters
If you buy DSX-602 it does not ship with DSX-PLA004 Permanent Link adapters
Note: If you have DSX-PLA004S from a DSX-5000 Cable Analyzer, those will work with DSX-602 for testing permanent link.
Is DSX-602 a Versiv platform product?
No. The 500 MHz cableanalyzer is non-modular and does not support the Versiv modules.
Warning, customers should not attempt to remove the two screws retaining the testing cartridge.
How does DSX-602 Compare against DSX-5000 and DSX-8000 in testing capability?
Can I use DSX-602 to test to MPTL, Class FA, TIA patch cord limits, "+PoE" or "+All" test limits, or test Alien Crosstalk?
No, these are not supported by DSX-602. If required, look to DSX2-5000 or DSX2-8000 CableAnalyzer models.
How do I set reference on DSX-602 if I do not have permanent link adapters and channel adapters?
A six inch RJ45 to RJ45 shielded patch cord ships with DSX-602, and it is used to set reference between Versiv main and remote with DSX-CHA004S connected.
The Set Reference help screen also shows possible connections: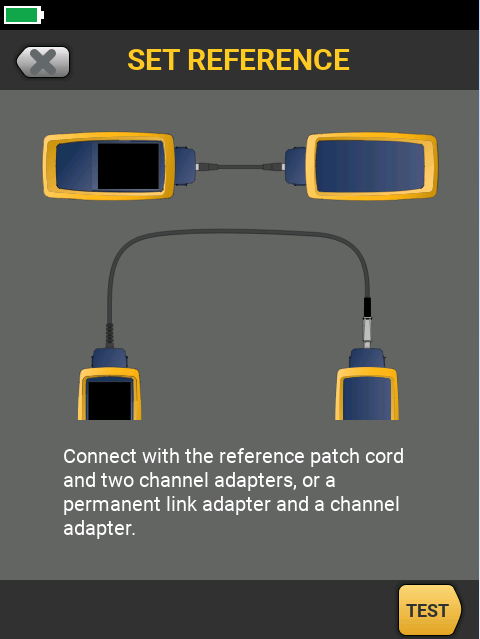 Does DSX-602 show "Fault Info" when an Autotest fails?
No. However, failing results will present a DIAGNOSTICS tab, in which you can view HDTDX and HDTDR traces on DSX-602 to determine if the failure indicates a cable issue or connector issue, or both.
HDTDR is used to investigate Return Loss failures.
HDTDX is used to investigate NEXT failures.
Is WiFi capability built-in?
Yes, or DSX-602 and DSX-602-PRO, built-in WiFi capability is enabled; no additional WiFi adapter is needed or supported to connect to WiFi.
Model DSX-602-NW, in which integrated wireless capability is disabled, should be considered if there is a job requirement
which forbids wifi connectivity by the tester.