Modular Plug Terminated Link (MPTL) Test Limits for DSX-5000 and DSX-8000
Within the ANSI-TIA568.2-D standard is a new link model named Modular Plug Terminated Link. Previously, the TIA-568-C.2 required that horizontal cable be terminated on a telecommunications outlet to provide flexible access to the user, however in certain limited cases there may be a need to terminate horizontal cables with a plug that is directly plugged into a device.
For most installations, either testing using the Permanent Link model to test from patch panel to faceplate, or to test the whole Channel is the correct approach. But in those cases where you are installing a far end device, such as an access point or a camera, where it is impractical to install a faceplate, this link model is an option.
The MPTL limits contemplate the use of a Permanent Link adapter, DSX-PLA004 or DSX-PLA804 on one end and a Patch Cord adapter, DSX-PC6A, DSX-PC6or DSX-PC5e on the other end. These links are tested against the TIA Permanent Link limits. The bolded model names are the orderable part numbers for the single patch cord adapters; make sure you order the correct adapter for the jacks and cabling you are using (they are not "backwards compatible for the test limit selection).
The use of a patch cord adapter on the far end that corresponds to the category of cable being tested helps to verify the performance of the field installed plug. If we were to use a channel adapter, per the standard, we would not include the mated NEXT of the plug and jack in the measurement.
This configuration shows how to set up for a TIA Cat 6A MPTL (+PoE) autotest using DSX-5000 and DSX-PLA004 permanent link adapter and DSX-PC6A patch cord adapter. Selecting the (+PoE) limit adds Resistance Unbalance and Pair to Pair Resistance Unbalance measurements to the test. It ensures that your cable is properly balanced, which is important for PoE environments. For more information, click here.
To configure the tester to run this test, from the Test Setup screen, tap the "Test Limit" field, and then MORE: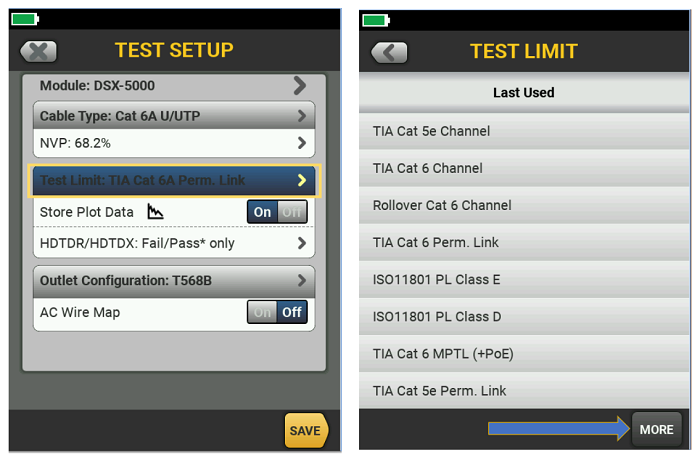 Next we will choose the TIA Limit Group, choose the desired category of cable, and select the desired MPTL limit: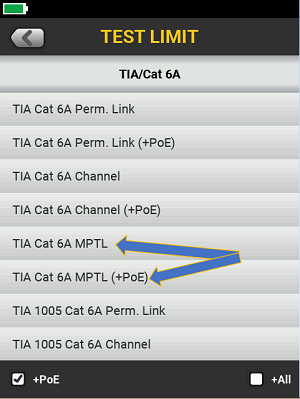 Note: If you do not see MPTL (+PoE) limits available, update your software on Versiv to the latest version (6.1 included these limits).
After you tap the desired test limit, tap SAVE, select your limit, and tap USE SELECTED to finalize your selection.
Ready to test: you should see your test limit in the test limit box on the HOME screen.
Remember, the standards suggest running two Category 6A links to access points for new installations.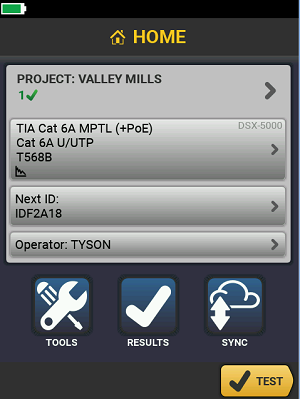 All Videos in This Series