The DSX-5000 CableAnalyzer™ with DSX-COAX adapters supports testing of 50 ohm, 75 Ohm, and 93 ohm coaxial cable.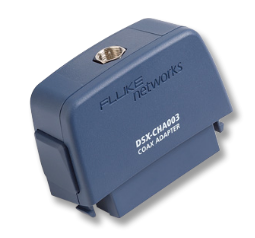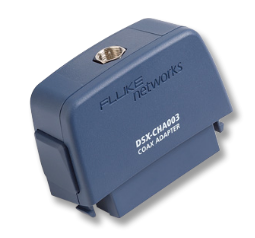 The DSX-COAX kit contains these items:
Two DSX-CHA003 adapters
Two female to female F-connector adapters
Two F-connector female to BNC female adapters
One 12 inch (30 cm) 75 W coaxial patch cord with male F-connectors

The DSX-COAX adapters must be referenced using the 12 inch coax reference cable shipped with the adapters prior to performing an Autotest.
DSX-CHA003 Coax Adapters Users Guide
The Autotest on Coax includes these tests:
Length
Resistance (remote or terminator required)
Impedance (limit depends on cable type; see limits document below)
Insertion Loss (remote required)
Propagation delay
HDTDR analyzer (HDTDR limit of 15% identifies anomalies in the physical cable plant, if present).
Refer to the DSX Limits document for choosing the appropriate Coax test limit for your job.
Click Here for Coax Test report example.
All Videos in This Series