Cable library - DSX CableAnalyzer
Are you a cabling vendor looking to add/update your entries in the DSX CableAnalyzer? Click here.

Changing the Cable Type in the DSX CableAnalyzer may change the Nominal Velocity of Propagation (NVP) setting.

If the NVP is changed, your length reading will also change. No other measurement is affected by changing the Cable Type/NVP.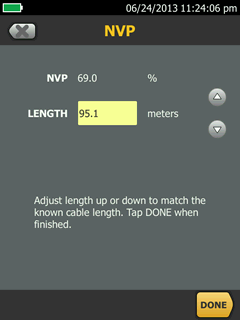 You can select a Generic Cable Type such as Cat 6A U/UTP or one from the Manufacturers folder. You should always verify the NVP with the cabling vendors' website. Although rare, there have been occasions where the vendors NVP has changed and no longer matches the entry in the DSX CableAnalyzer, due to the inevitable gap between software release periods.

DSP and DTX customers will be used to selecting UTP, FTP or STP. In the DSX CableAnalyzer, Fluke Networks has adopted the ISO/IEC designation for Cable Types.




Many North American vendors have already adopted this designation. There are many more combinations of X/XXX than shown here. The DSX CableAnalyzer contains the most common ones. If you have a Cable Type that does not match any of the entries, you can create a Custom entry.
All Videos in This Series