UPC, APC, PC Fiber End Face Finishes - DSP FTA Series
We often receive requests for information on how to test fiber terminated with various connector types and fiber end face finishes. Fluke Networks products are designed to use launch cables with UPC fiber end face finish. The supplied SC launch cables come with UPC end face finishes.

There are four types of fiber end face finishes:

Flat
PC (Physical Contact)
UPC (Ultra Physical Connector)
APC (Angle Physical Connector)
The following excerpt from the Fiber Optic Reference Guide, Second Edition by David R. Goff
(ISBN: 0-240-80360-4) shows the differences in the end face finish and the effects of the finish type when testing singlemode links.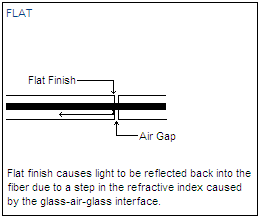 Fluke Networks recommends using Method B when testing links terminated with APC finished connectors. It will also be necessary to have appropriate launch cables (matching core diameter and connector type of link under test) with APC end face finishes. Only the Input port on the fiber adapter will accept SC/APC connector type and finish.

These guidelines hold true for testing multimode and singlemode links using any Fluke Networks test equipment, including the DSP-FTA4X0, OptiFiber and DTX-XFM fiber modules.
Learn About:
- Fiber Testing