VFL Port – Visual Fault Locator
The CertiFiber Pro™ OLTS modules and the OptiFiber® Pro OTDR modules include a visual fault locator that sends a red light down the fiber. The red light shows at the end of the fiber and at breaks, cracks, and sharp bends along the fiber. The VFL helps you do these tasks:
· Quickly verify the continuity of fibers.
· Identify the polarity of duplex connections.
· Identify connections in patch panels.
· See breaks and bad splices. These faults cause the fiber to emit red light.
· See high-loss bends. If you can see the light from the VFL at a bend in a fiber, the bend is too sharp.
· See connectors that have damaged fibers inside. A damaged fiber inside a connector causes a red light in the connector.
Increase the quality of mechanical splices and prepolished connectors: Before you seal the splice or connector, adjust the fiber alignment for the minimum amount of light where the fibers touch. (Refer to the instructions from the manufacturer when you make splices and connectors.)
VFL Range:
Multimode: Up to 3 km
Singlemode: Up to 4 km

How to use the Visual Fault Locator
​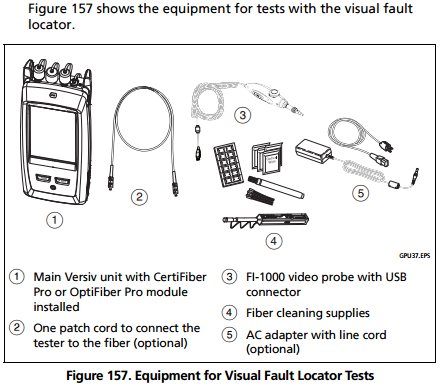 Note
You can connect the visual fault locator to connectors that have 2.5 mm ferrules (SC, ST, or FC). To connect to other ferrule sizes, use a test reference cord with the correct connector at one end and a SC, ST, or FC connector at the tester end.
Clean and inspect the connectors on the patch cord, if used, and the fiber to be tested.
Connect the fiber directly to the VFL port or use the patch cord to connect to the port.
Use the VFL button to turn on the visual fault locator (see picture below). Or, on the home screen tap TOOLS, then tap Visual Fault Locator (VFL). You can tap the PULSE/OFF/CW (continuous wave) button on the screen to change the modes of the VFL, or use the button as shown in the picture below.
Look for the red light as shown in the picture below.
To see the light that comes out of a connector, hold a white paper in front of the fiber connector.
Notes
The fiber connector at the VFL and the fiber near the connector can emit red light when there are no faults there because the light is strong at the VFL output. The light from the VFL is possibly not visible through dark-colored fiber jackets.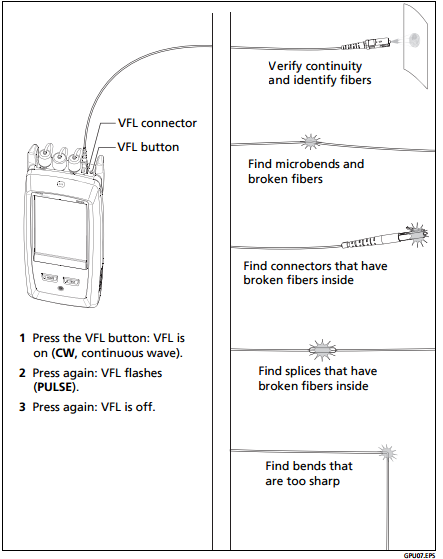 All Videos in This Series