Updating the CableIQ to Version 1.6
Please do not be put off by updating your CableIQ Qualification Tester and PC Software. The process is simple and very quick.

Download:
This is a two step process. You will need to first install the CableIQ Reporter Software on your PC, then connect the CableIQ via the USB to your PC and send the firmware 1.60 update to the CableIQ Qualification Tester.

Installing CableIQ Reporter 2.0
Run the file you just downloaded from above link, and if prompted to, click on Remove.
Updating the CableIQ Firmware
Why not take this opportunity to install new batteries in your CableIQ. If it loses power during the update, it may have to come into one of our service centers. Open your CableIQ Reporter 2.0 Software and connect the CableIQ Qualification Tester to the USB port on your PC. Power on the CableIQ. If this is the first time you have done this, Windows will come up with a message that it has detected a new device. Go ahead and let it install the USB driver. If you do not let the driver install, you will need to uninstall CableIQ Reporter and reinstall it again.

In CableIQ Reporter, click on Utilities > Update CableIQ Software*

*Firmware is a term engineers use to distinguish the difference between software for a PC and software for an instrument. Because most customers are not engineers, we use the term Software for both PC and instrumentation updates.

You will then be issued with the following WARNING>
Even if you think you have already downloaded the results from the CableIQ, why not do it again just to make sure. Please? Go ahead and select the update file from the location you saved it at earlier. Can't remember where you saved it? Click here and download it again to a location that is easy to find such as your Desktop.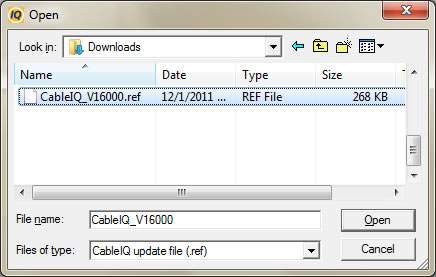 Clicking Open will the send the update to the CableIQ Qualification Tester. The update process takes approximately 80 seconds.