DATASHEET
LinkIQ™ Cable+Network Tester
Download PDF
Cable testing you trust. Network testing you need.
LinkIQ™ enables you to:
Find maximum cabling speed (Up to 10 Gb/s).
Install and troubleshoot PoE devices via Switch Negotiation and PoE Load Test. Ethernet Alliance PoE Certified for reliable multivendor interoperability.
Discover connected switch information (Switch Name, IP address, Port Number, MAC Address, and VLAN)
Test connectivity to TCP/IP network through IP configuration and ping
Verify Gateway and DNS server responsiveness and availability
Document your work through LinkWare™ PC
Overview
The LinkIQ™ Cable+Network Tester is the testing solution to verify cable performance up to 10 Gb/s and solve network connectivity problems. LinkIQ validates cable performance using frequency-based measurements and a wire map of the cable under test. The LinkIQ also performs ping tests to verify connectivity and nearest switch diagnostics to identify key network issues and validate switch configuration - eliminating the need for another device. Additional features include Analog and Digital Toning, Port Blink, Remote Office Locators, and the ability to manage results via LinkWare™ PC.
Cable Testing You Trust
The LinkIQ™ is capable of measuring lengths up to 1000 feet (305 m) and provides distance to faults such as opens, shorts, and unterminated cable. Using the remote ID allows for a complete wire map of the cable pairs which helps identify miswired and split pairs. The primary cable testing feature of LinkIQ™ is the cable performance test which qualifies the cabling bandwidth from 10BASE-T to 10GBASE-T (10 Mb/s up to 10 Gb/s). It performs these tests via frequency-based measurements. Using IEEE-standards-based measurements ensures that tested links meet performance requirements as opposed to transmission testers which only prove that the specific test devices can communicate over the link.
Operators may set performance requirements from 10 Mb/s to 10 Gb/s for a simple pass/fail indication.
Cable test without remote attached shows length and pairing of each wire
Cable test with remote attached shows remote ID number 5, length and pairing of each wire and cable performance of up to 10 Gb/s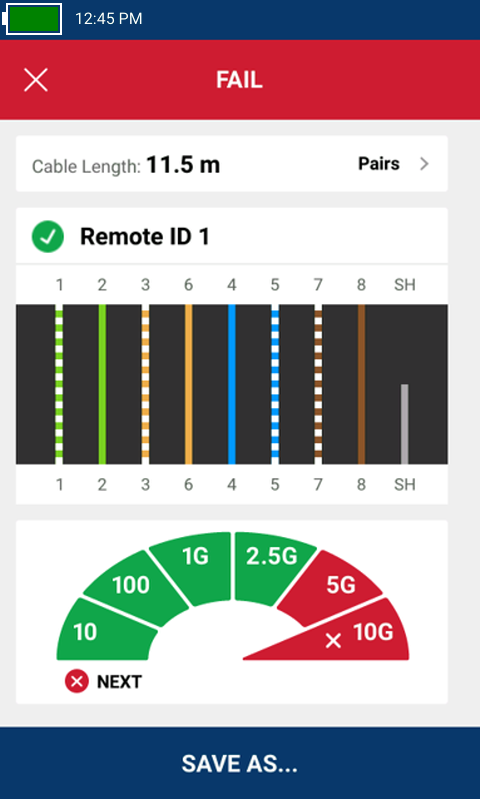 Cable test with remote attached shows remote ID number 1, length and pairing of each wire and cable performance of up to 2.5 Gb/s but failed the test due to a user-set limit of 10 Gb/s performance.
Network Testing You Need
Along with the robust cable testing features, the LinkIQ™ also provides detailed information on the nearest connected switch and connectivity testing with IP ping. The LinkIQ™ negotiates with the switch to identify the advertised data rate (up to 10GBASE-T), half/full duplex identification, the switch name and IP address, port number, and VLAN info.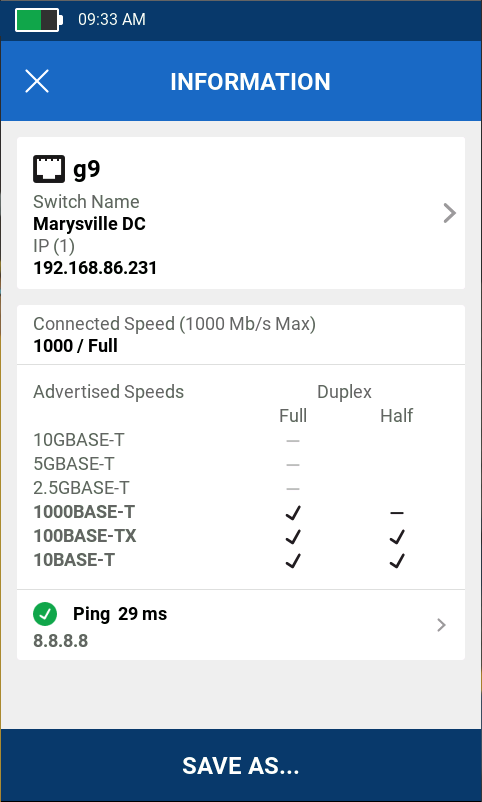 Switch port test shows switch name and IP address, connected port, and VLAN along with advertised speed and duplex settings. If a ping test is configured, the target address and average response time are shown. Scrolling down shows Power over Ethernet results.
The ping test verifies connectivity to devices on the local network or the internet and supports both IPv4 and v6. The LinkIQ's address may be set up manually or through DHCP. Once set up, the ping test is run as part of the Autotest when a switch is detected. Results of the ping test include identification and response time of each of four pings to the target, the DNS server and gateway.
Ping result screen shows response time to target for each of four pings. Scrolling down displays DHCP, DNS and gateway information.
In-Depth PoE Testing
While Power over Ethernet makes installation of devices such as security cameras and access points simpler, a survey by the Ethernet Alliance of over 800 installers, integrators and end users found that four of five respondents experienced difficulties in integrating PoE systems. Part of this can be traced to the fact that the IEEE offers three PoE standards, the term "PoE" is not registered and there are a variety of non-standards-compliant implementations as well.
Switch port Power over Ethernet result shows pairs used, power and class available and results of the PoE test under load.
To simplify PoE installation and troubleshooting, the LinkIQ displays the pairs where power is provided, including the different power levels and pairs for dual-signature implementations. Further, the LinkIQ will actually place a load on the connection to ensure that the advertised power is actually being delivered by the switch across the cabling infrastructure. The LinkIQ has been certified by the Ethernet Alliance to IEEE-802.3™ standards for reliable multivendor interoperability.
LinkWare™ Documentation
The LinkIQ provides complete documentation abilities for the tests it performs. Up to 1,000 results can be stored in the tester with descriptive names and recalled. Test names and numbers automatically increment as each is saved ("Annex B-1", "Annex B-2", "Annex B-3", etc.) saving lots of time when testing cables in sequence.
Report data may be exported to a PC for documentation purposes. The LinkIQ uses LinkWare™ PC, Fluke Networks' reporting software which supports a variety of testers going back 20 years and is the industry's de facto reporting solution with tens of thousands of active users. LinkWare can be used to store the results as well as generate PDF reports.
Use LinkWare PC to generate PDF test reports.
Additional Features
Language support for English, German, French, Japanese, Thai, Spanish, Traditional Chinese, Simplified Chinese, Korean, Russian, Italian, Portuguese
Generates Analog or Digital tones compatible with the IntelliTone™ Probe or Pro3000™ to assist in locating cables in a wall or telecommunications room
Blink Port light on switch to help identify the connected switch port
Compatible with MicroScanner™ PoE Remote Identifiers for Ethernet outlet identification
Touch Sensitive gesture-based display
Rechargeable Li-Ion battery
Easy Feature and Network Testing Upgrades via USB-C via LinkWare™ PC
Charging via standard USB-C port
LIQ-100 includes LinkIQ mainframe and accessories.
LinkIQ™ Feature Breakout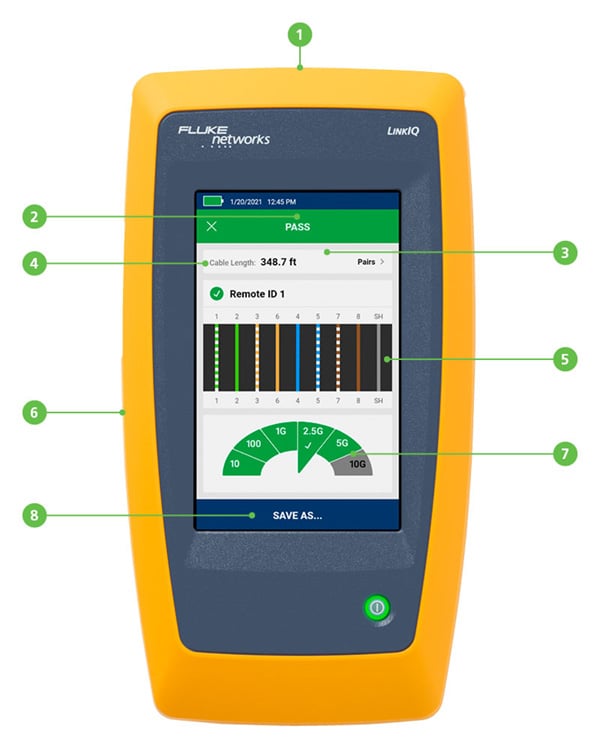 RJ45 Port
PASS/FAIL frequency-based measurement results
Touch Screen Color Display
Length measurement shows distance to termination, open or short
Wiremap shows type and location of fault (miswires, split pairs, shorts, breaks)
USB-C port for data export, software updates and charging
Cable "Speedometer" provides bandwidth information up to 10G
Save up to 1000 test results on the unit and export to LinkWare™ PC
Ordering Information
MODEL
DESCRIPTION
LIQ-100
LinkIQ Cable+Network Tester with Remote ID 1, Quick Reference Guide, USB-C to USB-A cable, Charging cable, Cat6A patch cord, RJ45/11 Modular Adapter, hanging strap with Remote ID holder, and Carrying Case
LIQ-100/FPC3
LIQ-100 with 3 Years of Premium Care Standard (Gold) for main unit (Available in US and limited regions)
LIQ-KIT
LinkIQ Cable+Network Tester with Remote IDs 1-7, IntelliTone Probe, Quick Reference Guide, USB-C to USB-A cable, Charging cable (with international adapters), Cat 6A patch cord, RJ45/11 Modular Adapter, hanging strap with Remote ID holder, and Duffle Bag
LIQ-KIT/FPC3
LIQ-KIT with 3 Years of Premium Care Standard (Gold) for main unit (Available in US and limited regions)
LIQ-KIT-FTK1475
Network Troubleshooting Professional Kit includes LinkIQ Cable+Network tester with remote IDs #1-7, RJ45-RJ45 patch cord, AC charger, RJ45/11 universal coupler; IntelliTone Pro 200 probe and duffle bag carrying case; SimpliFiber Pro optical power meter, 850/1300 multimode source, 1310/1550 single-mode source; VisiFault Visual Fault Locator with 2.5mm universal adapter, two AAA batteries, two (2) FindFiber Remote ID sources, magnetic strap attachments and carrying case; SC, ST, and LC power meter adapters; FiberInspector Micro with Probe, Display, 4 UPC tips (LC bulkhead, SC bulkhead, 1.25mm end face adapters and 2.50mm end face adapters), rechargeable batteries and universal power adapter; NFC-KIT-BOX fiber optic cleaning kit.
LIQ-KIT-FQM-100MIC
Network Troubleshooting Qualification Kit includes LinkIQ Cable+Network tester with remote IDs #1-7, RJ45-RJ45 patch cord, AC charger, RJ45/11 universal coupler; IntelliTone Pro 200 probe and duffle bag carrying case, Fiber QuickMap multimode fiber fault locator unit, screw on interchangeable SC adapter, 50 µm SC/LC Multimode Launch Fiber, carrying case, 4-language Quick Reference Guide (manuals in 9 languages available on-line), safety instruction manual, batteries; FiberInspector Micro with Probe, Display, 4 UPC tips (LC bulkhead, SC bulkhead, 1.25mm end face adapters and 2.50mm end face adapters), Magnetic strap attachment, case, rechargeable batteries and universal power adapter; Quick Clean Cleaner 1.25 mm Fiber, LC and MU.
LIQ-KIT-VFL-FBRLRT
Essential Copper Fiber Troubleshooting Kit includes LinkIQ Cable+Network tester with remote IDs #1-7, RJ45-RJ45 patch cord, AC charger, RJ45/11 universal coupler; IntelliTone Pro 200 probe and duffle bag carrying case; VisiFault Visual Fault Locator with 2.5mm universal adapter, two AAA batteries; FiberLert live fiber detector, 850 nm to 1625 nm with two AAA batteries.
LIQ-KIT-MS2-100
Twisted Pair and Coax Network Kit includes LinkIQ Cable+Network tester with remote IDs #1-7, RJ45-RJ45 patch cord, AC charger, RJ45/11 universal coupler; IntelliTone Pro 200 probe and duffle bag carrying case; MicroScanner2 Cable Verifier with main wire map adapter, multi-language Getting Started Guide, batteries, and Fluke Networks carry pouch.
LIQ-KIT-IS60
LinkIQ Technician Kit includes LinkIQ Cable+Network tester with remote IDs #1-7, RJ45-RJ45 patch cord, AC charger, RJ45/11 universal coupler; IntelliTone Pro 200 probe and duffle bag carrying case; Pro-Tool Kit IS60 with D914S Impact Tool, D-Snips, Cable Stripper, EverSharp 66/110 cut blade, Sharpie® & LED flashlight;

LIQ-KIT-87-5
(US Only)

Electrical & Network Troubleshooter Kit includes LinkIQ Cable+Network tester with remote IDs #1-7, RJ45-RJ45 patch cord, AC charger, RJ45/11 universal coupler; IntelliTone Pro 200 probe and duffle bag carrying case; Fluke 87V Industrial Multimeters with TL75 Test Leads (TL175 Eur), AC175 alligator clips, holster with tilt-leg/test lead storage, 80BK temperature probe, 9V battery (installed), C3004IND duffle case.
LIQ-KIT-3 Pack
Pack of three LIQ-KIT
LIQ-KIT-6 Pack
Pack of six LIQ-KIT
REMOTEID-1
Replacement ID for LinkIQ Remote ID #1
REMOTEID-KIT
Remote ID Kit (IDs #2-#7) for LinkIQ and MicroScanner PoE
LIQ-BATTERY
LinkIQ Replacement Battery
FPC1S-LIQ-1
1 Year Premium Care (Gold) Standard for LinkIQ
GLD-LIQ
1 Year Gold Support LinkIQ Cable Performance & Network Tester (order in regions where FPC1S-LIQ-1 not available)
FPC3S-LIQ-1
3 Year Premium Care (Gold) Standard for LinkIQ
GLD3-LIQ
3 Year Gold Support LinkIQ Cable Performance & Network Tester (order in regions where FPC3S-LIQ-1 not available)
General Specifications
Feature
Description
Languages supported in UI
English, German, French, Japanese, Spanish, Thai, Traditional Chinese, Simplified Chinese, Korean, Russian, Italian, Portuguese
Weight
1 lbs 6 oz (624g)
Battery
Type: Lithium-ion, 3.6 V, 6400 mAh;
Life: 8 hours typical;
Charge time: 4.5 hours;
Charging temperature range: 0 °C to +40 °C
Power Adapter
Input: 100 to 240 VAC ±10%, 50/60Hz;
Output: 15 VDC, 2 A maximum;a
Class II
Host Interface
USB type C
Display
800 x 480 color capacitive multi-touch
Dimensions
8.5 in x 4.5 in
Operating Temperature
0°C to 45°C
Storage Temperature
-10°C to 60°C (-14°F to 140°F)
Operating Relative Humidity
0 % to 90 %, 0°C to 35°C;
0 % to 70 %, 35°C to 45°C
Operating Altitude
4,000 m;
3,200 m with ac adapter
Vibration
Random, 2 g, 5 Hz-500 Hz
Drop
1 m drop, 6 sides
Active Network Diagnostics
Feature
Description
Diagnostic Protocols
Link Layer Discovery Protocol (LLDP),
Cisco Discovery Protocol (CDP),
Fast Link Pulses (FLP)
Internet Control Messaging Protocol (ICMP),
Dynamic Host Configuration Protocol (DHCP)
IP Address Setup
LinkIQ address, DNS Server, Gateway for IPv4 or v6 either manually or via DHCP.
IP Ping Test Results
Four response time results for target, DNS Server(s), Gateway, plus average and number lost.
Nearest Device Diagnostics,
(If available through diagnostic protocols)
Switch Name / IP + MAC Address,
Port Number,
VLAN Name,
Advertised Data Rates,
Advertised Duplex
Power Over Ethernet Compatibility
Ethernet Alliance Certified to IEEE 802.3af/at/bt,
Hardware negotiation with signature resistance,
Software negotiation with LLDP/CDP
Power Over Ethernet Diagnostics
Advertised Power Class (0-8),
Advertised Available Power,
Powered Pairs,
Diagnostics for both Single and Dual signatures
Power Over Ethernet Measurements
Loaded Voltage (V),
Loaded Power (W)
Port Blink
Blink the light of the connected port
Cable Test Specifications
Feature
Description
Test Port
Shielded 8-pin modular jack accepts 8-pin modular (RJ45) plugs
Commissioning Autotests
10GBASE-T, 5GBASE-T, 2.5GBASE-T, 1000BASE-T, 100BASE-TX, 10BASE-T, Wire map Only.
Test Speed: 6 seconds for lengths < 70 m
Cable Types
Balanced twisted-pair cabling;
Unshielded twisted-pair;
Screened twisted-pair;
2-pair and/or 4-pair
Wire Map-Only Tests
Document wire map,
Length of each pair,
Diagnose split pairs,
User selectable T568A or T568B,
User selectable crossover settings (Straight through, Half-crossover, Full-crossover).
Test speed: 1 second for lengths < 120 m
Length (Maximum)
305 m (1000 ft)
Nominal Velocity of Propagation (NVP)
User settable
Tone Generator
Generates digital tones compatible with Fluke Networks IntelliTone probe.
Generates analog tones compatible with general analog probes.
Remote ID Locators
Use remote ID terminations to identify up to 7 unique ports or office outlets