DATASHEET
Industrial Ethernet CableAnalyzer™ Kit (DSX2-5-IE-K1)
Download PDF
Cabling in Industrial Environments
ISO/IEC 11801-3 and ANSI/TIA-1005-A are telecommunications infrastructure standards for Industrial Premises. These standards were created to reduce problems in harsh industrial environments. The standards use the term MICE to explain 4 important factors impacting industrial networks.
Mechanical; vibration, physical shock, rough handling
Ingress; chemicals and water, especially in wash-down environments
Climatic; temperature extremes found in industrial processes
Electromagnetic; noise from motors, VFDs, welding processes, etc.
Standards have 3 MICE levels to help identify the severity of the environment
Level 1: Control and data rooms. This is usually an office environment
Level 2: Factory floor. This is usually between the manufacturing equipment and control rooms
Level 3: Manufacturing and automation areas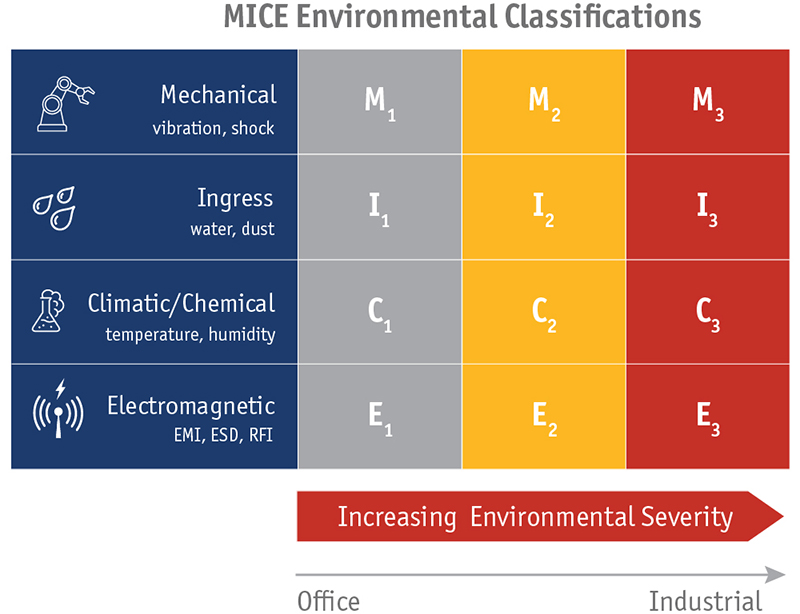 Overview
Industrial environments are much harsher and more time sensitive than traditional IT environments. Ethernet packets can be corrupted (CRC, FCS errors) causing packet re-sends which increases latency which can disrupt communications resulting in production delays.
Cables that appear good and pass basic continuity and speed tests can be susceptible to vibration, moisture and contamination, temperature changes, and electromagnetic noise (factors referred to as MICE — see above) in a manner that causes ethernet packets to be intermittently corrupted.
The DSX Industrial Ethernet CableAnalyzer™ (DSX2-5-IE-K1) is based on the Fluke Networks DSX-5000 and supports testing copper Industrial Ethernet networks and has optional modules to support fiber optics.
Validate that cables conform to international standards.
Faster Startup: Ensure cable performance at machine builder, commissioning and after making changes.
Prevent downtime: Find marginal cables susceptible to vibration, moisture, noise and temperature.
Speed troubleshooting: Avoid wasting time installing bypass cables.
Identify the exact type and location of cable failure—or prove it's good.
Pass/Fail indication in 10 seconds
Supports cabling for EtherNet/IP™, PROFINET™, ModBus TCP™ and other industrial networks
Supports RJ45 and M12 connectors
Documentation of test results for commissioning
Find Cables Susceptible to Mechanical Vibration (M), Moisture Ingress (I) & Climatic/Temperature (C) Issues
Continuity testers are designed to find open and shorts, but it is possible for a cable to pass a continuity test and have intermittently higher resistance (or even open circuit) on one or more of the wires in the cable that appear with vibration, moisture or temperature changes. This can cause intermittent packet loss adding excessive latency to time sensitive networks.
The DSX CableAnalyzer features a unique resistance unbalance test that measures resistance on all 4 or 8 wires in the cable. One wire with higher resistance than the other wires is likely to become intermittent.
All 4 pairs have nearly equal resistance
Excessive resistance which could cause an intermittent connection
Find Cables Susceptible to Electromagnetic Interference (EMI) with TCL and ELTCTL Tests
EMI corrupts data packets which is why Transverse Conversion Loss (TCL) and Equal Level Transverse Conversion Transfer Loss (ELTCTL) requirements are included in the standards for UTP systems to protect against Electrostatic Discharge (by direct contact and through air) — up to 8kV, radio frequency interference, surges (line to earth) — up to 1kV, and magnetic fields (motors and relays).
Cables (including pre-terminated cables) can pick up EMI (noise) from other data cables, power cables, motors, motor drives, and other sources. This is caused by a lack of balance in the cable due to untwisted wires, excessively tight cable ties, sharp radiuses, excessive bends and other factors.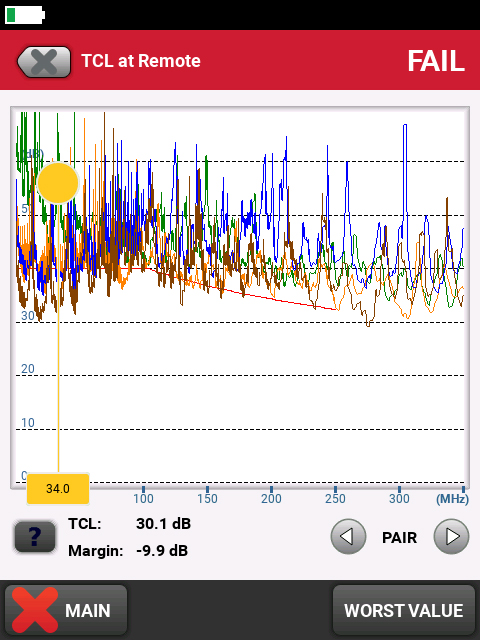 Cable susceptible to EMI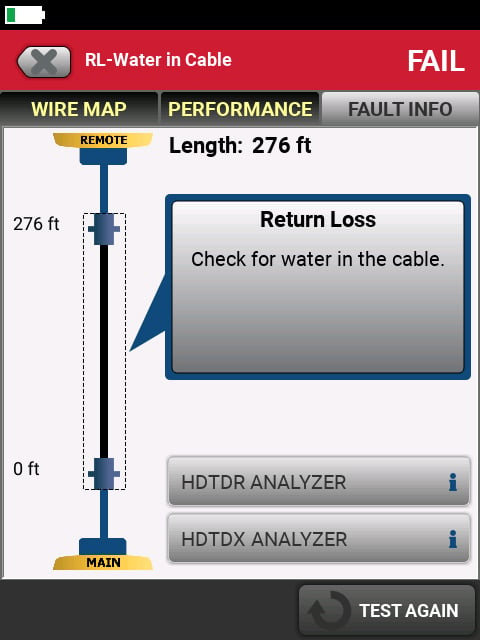 Cable that may contain water
Find 4 Pair Cables with Bad Shield with the Shield Integrity Test
The CableAnalyzer can distinguish between an equipment ground path and the actual shield (or screen) used on some 4 pair cables. The Wire Map display provides a Pass/Fail indication and the distance to the fault.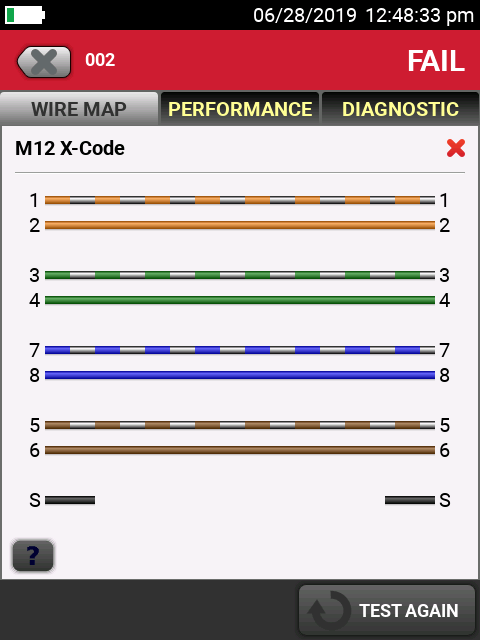 Wire map indicating a bad shield
ProjX™ Management System Manages Complex Jobs with Ease
Manage up to 12,000 test results with full graphics
Managing the testing of multiple jobs with multiple teams, testers, and requirements is time consuming and a source of errors. Increasingly larger jobs make project organization more important than ever. The ProjX management system on the DSX CableAnalyzer Series provides individual project files for all job specific details to be saved under a simple name, eliminating the need to re-enter job specific details after starting a project. This minimizes set-up errors or lost files when switching from one job to another or utilizing multiple testers on a single job. In addition, it provides test results by cable ID, merges any changes without duplicates and defaults to the last copper or fiber module installed. ProjX management system provides real time status to completion on each job with a 0-100% scale and gives the operator the option to isolate any test requiring a second look and helps to assure nothing is overlooked. The "Fix Later" selection creates a punch list or automatic to do list for correcting any workmanship issues. ProjX enables project managers and crew leaders to be truly efficient.
Project Menu screen shows percent complete per job
Project specific screen shows up to the minute project details
Taptive User Interface Simplifies Set Up, Eliminates Errors and Speeds Troubleshooting
Capacitive touchscreen allows quick tester setup and supports all standards
Taptive user interface is easy enough for even the newest technician to perform tests across multiple media types and testing requirements. The capacitive Taptive user interface makes all jobs easily accessible from the menu screen. Touch the job you're working on and the large display confirms the test that needs to be performed, animated instructions simplify setting the configuration making correct testing assured.
Simple Setup
Quickly enter Cable Ids with the capacitive touchscreen
Troubleshoot Like An Expert
Graphically displays the source of failures including crosstalk and distance to shield faults for faster troubleshooting
The DSX reduces the time required to fix cabling faults with dedicated diagnostics, a simple 1 button test runs all tests and saves all data. The graphical results screen allows you to look down the cable to see exactly where any cross talk, return loss or shield faults are located on any given link. This common view is easily interpreted by novice and expert users alike to isolate and act on any failed results quickly and is stored with the test result for remote analysis.
High Definition Domain Cross talk (HTDTX) shows the far end connection is clearly the issue
Features simple diagnostic based on decades of Fluke Networks troubleshooting experience
Performs with Unsurpassed Speed
Document cable performance with pass/fail results in as little as 8 seconds.
No tester offers so much speed for so many tests. Complete copper certification to Cat 6A in 8 seconds or certify two fibers at two wavelengths in just 3 seconds. Compete copper cable testing to international standards in 8 seconds per link. Test fiber optic links (requires optional fiber optic modules) in under 3 seconds per link.
Passing test result
Return loss graph
Pinch and zoom for more detail
DSX CableAnalyzer Series Specifications
Cable Types
Shielded and unshielded
pair LAN cabling
TIA Cat 3, 4, 5, 5e, 6, 6A, 100 Ω ISO/IEC Class C, D, E, EA, F, FA and I/II: 100 Ω and 120 Ω
Adapters and Test Standards
Adapters
RJ45 channel, M12-D (2 pair) and M12-X (4 pair)
TIA
Cat 3, 4, 5, 5e, 6, 6A per TIA 568 Series
ISO/IEC
Class C, D, E, EA, F, FA, certification per ISO/IEC 11801 Series
General Specifications
Supported test parameters (The selected test standard determines the test parameters and the frequency range of the tests)
Wire Map, Length, Propagation Delay, Delay Skew, DC Loop Resistance, Pair-to-Pair Resistance Unbalance, Pair Resistance Unbalance, Insertion Loss (Attenuation), Return Loss (RL), Common Mode Return loss (CMRL), Near End Crosstalk (NEXT), Far End Crosstalk (FEXT), Attenuation-to-crosstalk Ratio (ACR-N), ACR-F (ELFEXT), Power Sum ACR-F (ELFEXT), Power Sum NEXT, Power Sum ACR-N, Power Sum Alien NEXT (PS ANEXT), Power Sum Alien Attenuation NEXT Ratio Far End (PS AACR-F), Common Mode to Differential Mode NEXT (CDNEXT),Transverse Conversion Loss (TCL), Equal Level Transverse Conversion Transfer Loss (ELTCTL)
Input protection
Protected against continuous telco voltages and 100 mA over-current. Occasional ISDN over-voltages will not cause damage
Display
5.7 in LCD display with a projected capacitance touchscreen
Case
High impact plastic with shock absorbing overmold
Dimensions
Main Versiv unit with DSX module and battery installed: 2.625 in x 5.25 in x 11.0 in (6.67 cm x 13.33 cm x 27.94 cm)
Weight
Main Versiv unit with DSX module and battery installed: 3 lbs, 5oz (1.28 kg)
Main unit and remote
Lithium ion battery pack, 7.2 V
Typical battery life
8 hours
Charge time*
Tester off: 4 hours to charge from 10 % capacity to 90 % capacity
Languages supported
English, French, German, Italian, Japanese, Portuguese, Spanish, Chinese, Korean, Russian, Trad Chinese, Czech, Polish, Swedish, Hungarian
Calibration
Service center calibration period is 1 year
Integrated Wi-Fi
Meets IEEE 802.11 a/b/g/n; dual band (2.4 GHz and 5 GHz)
Software Support
LinkWare Live cloud-based service lets you manage certification jobs. LinkWare PC Management Software allows you to easily generate certification reports and upgrade software in your tester.
Environmental Specifications
Operating Temperature
32° F to 113° F (0° C to 45° C)
Storage Temperature
-22° F to +140° F (-30° C to +60° C)
Operating relative humidity (% RH without condensation)
0% to 90%, 32° F to 95° F (0° C to 35° C)
0% to 70%, 95° F to 113° F (35° C to 45 °C)
Vibration
Random, 2 g, 5 Hz-500 Hz
Shock
1 m drop test with and without module and adapter
Safety
CSA 22.2 No. 61010, IEC 61010-1 3rd Edition
Operating altitude
13,123 ft (4,000 m)
10,500 ft (3,200 m) with ac adapter
EMC
EN 61326-1
Ordering Information
DSX Industrial Ethernet Models and Accessories
Model
Description
DSX2-5-IE-K1
DSX Industrial Ethernet Kit (includes tester, RJ45, M12-X and M12-D cable adapters)
GLD-DSX2-5-IE-K1
1 YR Gold Support Package for DSX2-5-IE-K1
GLD3-DSX2-5-IE-K1
3 YR Gold Support Package for DSX2-5-IE-K1
DSX-OFP-Q-ADD
DSX-5000 with Quad OTDR Add-on Kit
DSX-PLA004S
DSX Cat 6A/Class EA Permanent Link Adapter Set
DSX-PLA004-RKIT
Cat 6A/Class EA PLA Adapter – Plug Replacement Kit
DSX-CHA004S
DSXcCat 6A/Class EA Channel Adapter Set
DSX-COAX
DSX Coax Adapter Set
DSX-CHA021S
DSX M12 4-Position Adapter Set
DSX-CHA-M12-X-S
DSX M12X 8-Position Adapter Set
DSX-PC5ES
DSX Patch Cord Test Adapter Set for Cat 5e patch cords
DSX-PC6S
DSX Patch Cord Test Adapter Set for Cat 6 patch cords
DSX-PC6AS
DSX Patch Cord Test Adapter Set for Cat 6A patch cords
DSX-PC5E
Single Patch Cord Adapter for Testing Cat 5e MPTL
DSX-PC6
Single Patch Cord Adapter for Testing Cat 6 MPTL
DSX-PC6A
Single Patch Cord Adapter for Testing Cat 6A MPTL
Versiv-TSET
VERSIV Headphones
VERSIV-BATTERY
VERSIV Battery
VERSIV-ACUN
VERSIV Charger
VERSIV-STRP
VERSIV Hand Strap
VERSIV-STND
VERSIV Demo Stand