The meter stores up to 1000 loss or power records. If the memory is full, the meter shows:
when you try to save a measurement.
To view records, press the
MODE
key until VIEW RECORD appears. The wavelength and the measurement are shown for a given record. If the record contains measurements for multiple wavelengths, the display alternates between the measurements. In the example below, record # 5 is shown: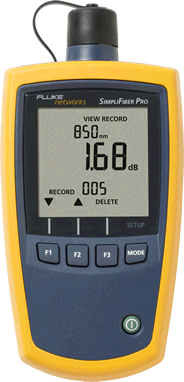 For those who are quick to note that the record number appears to only go to 999, it will go to 1000. There are four characters available, the SimpliFIber Pro only uses the fourth character when you hit 1000 records.
To delete the record you are viewing, press the
F3
key DELETE twice. If you delete a record below the highest record number, the meter does not reuse the empty memory location. Deleted records show - - - - for the measurement. To delete all records, hold down
F3
key DELETE until DELETE ALL? appears; then press the
F3
key again. Once they are deleted, they are gone for good.
There is no back door to recover deleted test results.