DATASHEET
MultiFiber™ Pro
Download PDF
Overview
First MPO tester to support both Singlemode and Multimode MPO fiber testing
Data centers are growing, fueled by the proliferation of media, virtualization and the need for more security and storage. This creates a high demand for 40 Gbps+ fiber links. Whether it is using 10 Gbps pre-terminated fiber trunks or planning for next-generation 40/100 Gbps performance, data centers are standardizing on Multi-fiber Push-on (MPO) connector solutions.
Pre-terminated fiber cables are manufactured and tested to comply with ANSI/TIA and international standards. When these cables are installed many factors can potentially impact performance. Field testing is the only way to ensure that pre-terminated fiber is installed to meet the application performance requirements. With single and duplex testers this verification testing is a time-consuming, manual and imprecise process. To ensure installation is done to standards, test with the MultiFiber Pro.
MultiFiber Pro takes the complexity out of testing MPO trunks for loss and polarity. With an on-board MPO connector, it is the first tester to automate the MPO fiber-trunk testing process without using a fan-out cord. The power meter/light source boasts industry-first functions such as automatic scanning of all twelve fibers and display of test results in an easy-to-read bar graph. These innovative features allow MultiFiber Pro kits to eliminate the complexity of testing MPO trunks, making it 90 percent faster than the traditional simplex test methods.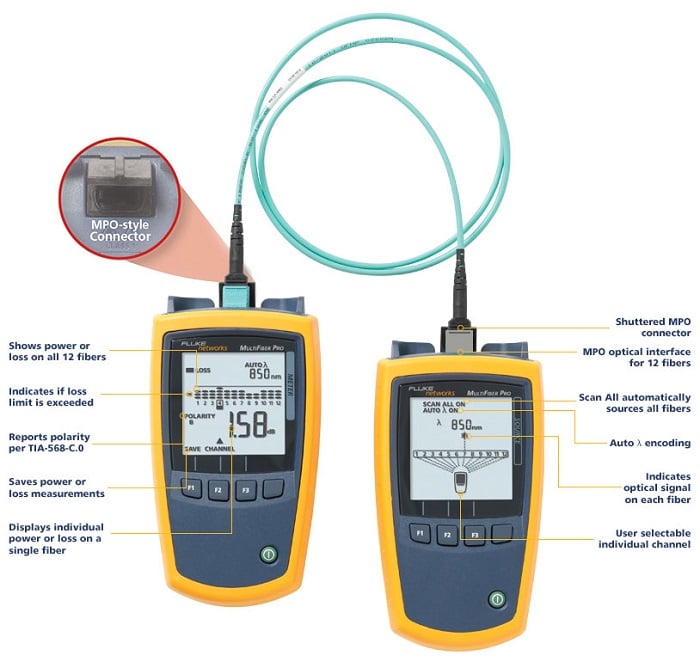 MultiFiber Pro Power Meter and Light Source feature the following:
Automatic scanning and testing of all fibers in MPO connectors with "Scan All"
Support for both Multimode and Singlemode MPO trunks
Eliminates the need for fan-out cords when testing fiber trunks
Easy to interpret test results with minimal navigation

User interface displays all 12 fibers

Automate 8, 10 and 12 fiber measurements
Troubleshoot MPO links and drill down to single fiber test results
MultiFiber Pro Unique Capabilities
"SCAN ALL" Function
Scan All function in the MultiFiber Pro Power Meter automatically scans and tests all 12 fibers in MPO connectors – taking just 6 seconds to complete all loss or power measurements. This feature automates the testing of MPO terminated fibers and eliminates the time consuming and manual process of moving the tester from fiber to fiber while using fan-out cords.
Built-in Polarity Verification
The simple purpose of any polarity scheme is to provide a continuous connection from the link's transmitter to the link's receiver. For array connectors, TIA-568-C.0 defines three methods to accomplish this. Deployment mistakes are common because these methods require a combination of patch cords with different polarity types. The polarity measurement of MultiFiber Pro allows the user to test individual patch cords, permanent links, and channels for correct polarity.
Polarity Agnostic Referencing
MPO deployments have many possible polarities: A, B, C, and Universal. MultiFiber Pro utilizes the concept of polarity agnostic referencing to simplify the referencing step. This powerful feature allows the user to reference with any polarity of patch cord. Then, using those same patch cords, the user can test any polarity link. Prior knowledge of the link's polarity is not required.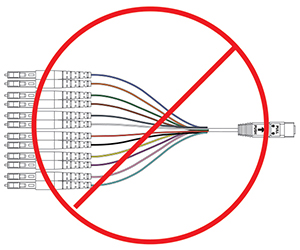 On-board MPO connector
The MPO connector on both the Optical Power Meter and Light Source eliminates the use of costly and complicated fan-out cords to test MPO fiber trunks.
Simple User Interface
The MultiFiber Pro simplifies the task of simultaneously presenting polarity, power, and loss results for 12 fibers. The power meter enables the users to easily comprehend the measurement results of 12 fibers simultaneously. The light source identifies each fiber within the MPO connector being tested. Any individual measurements that fail the test limit is identified to allow root-cause analysis. This powerful yet straightforward test set enables everyone to become a fiber testing expert increasing efficiency in testing data center projects.
Select an Individual Fiber
Drilling down to a single fiber during testing and troubleshooting is always a challenge in data centers. MuliFiber Pro can troubleshoot a single fiber within an MPO trunk to provide a single fiber test result. This increases MPO connector verification and troubleshooting flexibility with more precise, per-fiber data and reporting.
Easy Reporting
The MultiFiber Pro Power Meter stores up to 3,000 test results internally which can be uploaded to a PC using the LinkWare™ Cable Test Management Software. LinkWare allows you to manage test results, edit cable ID's, print professional reports and even export the data into spreadsheet formats.
Kits for Every Need
MultiFiber Pro is available in several convenient kit configurations to meet all your cleaning, inspection and verification testing needs. Some kits include:
FI-7000 FiberInspector Pro with MPO tip and cleaning supplies
The FI-7000 is the ultimate inspection tool. It enables you to quickly inspect and certify fiber end-faces inside ports or patch cords. It's 2-second automated PASS/FAIL eliminates human subjectivity and enables anyone to become a fiber inspection expert.
Automated Pass/Fail acceptance testing of fiber end-faces
Large touchscreen for pinch and zoom
Graphical indication of problem areas due to contamination, pits, chips, and scratches
Certify to industry standards – IEC 61300-3-35
Eliminate human subjectivity from end-face measurements
Includes MPO tip for inspection probe and MPO cleaner
Fiber Cleaning – Quick Clean™ Cleaners
Cleaning is critical. Fluke Networks' Quick Clean Cleaners instantly clean fiber optic bulkhead connectors and end-faces. Just push the tool tip to engage cleaning action and pull back on the wheel – it's that simple. The MPO Quick Clean Cleaner is bundled with the MultiFiber Pro kits to ensure that you have the best cleaning tool from the beginning.
General Specifications
Environmental
Operating temperature
-10° C to +50° C
Storage temperature
-20° C to +50° C
Operating humidity
95% (10° C to +35° C) non-condensing
75% (35° C to +45° C) non-condensing
Uncontrolled < 10° C
Operating altitude
12,000 m
Storage altitude
12,000 m
Vibration
Random 2 G, 5 Hz to 500 Hz
Optical Power Meter (Specifications apply at 23° C (73° F), unless otherwise noted.)
Detector type
InGaAs
Calibrated wavelengths
850 nm, 1300 nm, 1310 nm, 1550 nm
Measurement range
0 dBm to -50 dBm
Test time
6 seconds
Power measurement linearity
±0.1 dB2
Power measurement uncertainty
±0.35 dB2
Power measurement repeatability
< 0.10 dB2
Display resolution, dB or dBm
0.01
Power display units
dBm, mW, µW
User-selectable limit for loss
0.05 dB to 50.0 dB, in increments of 0.05 dB up to 10.0 dB and 0.1 dB up to 50.0dB
Auto wavelength detection
Yes
Polarity detection
Detects A, B, C, and Corning Plug & Play™ Universal Systems polarities
2 kHz detection
Yes
Record storage
3000 records, one fiber per record (250 12-fiber cables)
External interface
USB 2.0, full speed
Optical connector
MPO interface for 12-fiber, unpinned plugs. Compatible with 62.5 µm, 50 µm, and singlemode fibers. Connector has a self-closing, protective cover.
Power requirement
2 AA alkaline batteries
Battery life3
30 hours (typical)
Automatic power-off
10, 20, 30, or 60 minutes (can be disabled by the user)
Low battery warning
Low battery icon blinks
Size
5.8 in x 3.2 in x 1.6 in (14.7 cm x 8.0 cm x 4.0 cm)
Weight
10.9 oz (309 g)

For 850 nm, 0 dBm to -50 dBm. For 1300, 1310, 1550 nm, -5 dBm to -50 dBm
For a continuous-wave optical signal.
Measured power levels £0 dBm. Backlight on. Battery life depends on the condition and type of batteries used. Fluke Networks recommends alkaline batteries.
23° C, after 10 minutes of warm-up time.
23° C, after 15 minutes of warm-up time.
Auto wavelength, SCAN ALL, and backlight on. Battery life depends on the condition and type of batteries used. Fluke Networks recommends alkaline batteries.
Sources
850 nm Source
1310 nm Source
1550 nm Source
Emitter type
LED
Laser
Wavelength
850 nm ±30 nm
1310 nm ±20 nm
1550 nm ±20 nm
Spectral width (FWHM)
50 nm (typical)
2 nm typical, 5 nm maximum
Minimum output power
≥ -24 dBm
≥ -1 dBm
Power output stability
≤±0.1 dB over 8 hours 4
±0.25 dB over 8 hours 5
Laser safety
IEC 60825-1:Class 1
Encircled flux
Meets TIA 455-526-14B, ISO/IEC 14763-3, and IEC 61280-4-1 for 50/125 µm at the source's optical connector.
NA
Optical connector
MTP/MPO interface for 12-fiber, unpinned plugs. Compatible with 62.5 µm and 50 µm fibers, non-APC only. Connector has a self-closing, protective cover.
MTP/MPO interface for 12-fiber, unpinned plugs. Compatible with 9 µm fibers, APC only. Connector has a self-closing, protective cover.
4. 23°C, after 10 minutes of warm-up time.
5. 23°C, after 15 minutes of warm-up time
Modes
2 kHz modulated, auto wavelength/td>
Power requirement
2 AA alkaline batteries
Battery life6
>30 hours (typical)
Automatic power-off
10, 20, 30, or 60 minutes (can be disabled by the user)
Low battery warning
Low battery icon blinks
Size
5.8 in x 3.2 in x 1.6 in (14.7 cm x 8.0 cm x 4.0 cm)
Weight
11.4 oz (323 g)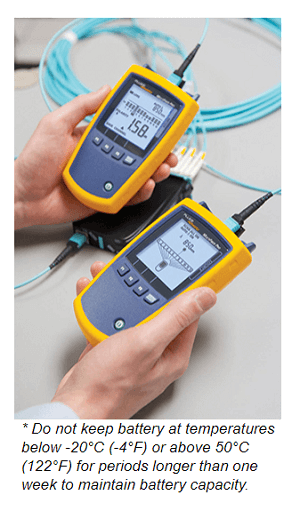 MultiFiber Pro Ordering Information
| Model | Description |
| --- | --- |
| MFTK1200 | MultiFiber Pro 850 nm Multimode Kit includes MultiFiber Pro Power Meter, 850 nm Light Source, Test Reference Cords, MPO adapters, Magnetic strap attachments, and carrying case. |
| MFTK-SM1310 | MultiFiber Pro 1550 nm Singlemode Kit includes MultiFiber Pro Power Meter, 1550 nm Light Source, Test Reference Cords, MPO adapters, Magnetic strap attachments, and carrying case |
| MFTK-SM1550 | MultiFiber Pro 1550 nm Singlemode Kit includes MultiFiber Pro Power Meter, 1550 nm Light Source, Test Reference Cords, MPO adapters, Magnetic strap attachments and carrying case |
| Model | Description |
| --- | --- |
| MFTK-MM850-SM1310 | MultiFiber Pro Multimode & 1310 nm Singlemode Kit includes MultiFiber Pro Power Meter, 850 nm Light Source, 1310 nm Light Source, Test Reference Cords, MPO adapters, Magnetic strap attachments, and carrying case |
| MFTK-MM850-SM1550 | MultiFiber Pro Multimode & 1550 nm Singlemode Kit includes MultiFiber Pro Power Meter, 850 nm Light Source, 1550 nm Light Source, Test Reference Cords, MPO adapters, Magnetic strap attachments, and carrying case |
| OFPQI-MFP | The complete kit for the Network Technician who needs to test ultra-short fiber links, verify polarity with MPO fiber trunks and inspect data center connection types. This kit includes everything you need—the OptiFiber® Pro OTDR, the MultiFiber™ Pro Loss Length tester and the MPO inspection tip-for troubleshooting multimode and singlemode fiber, field testing multimode MPO components and inspecting MPO ports and end faces on fiber optic connectors. |
| OFPMI-MFP | The complete kit for the Network Technician who needs to test ultra-short fiber links, verify polarity with MPO fiber trunks and inspect data center connection types. This kit includes everything you need—the OptiFiber® Pro OTDR, the MultiFiber™ Pro Loss Length tester and the MPO inspection tip—for troubleshooting mulitmode fiber, field testing MPO components and inspecting MPO ports and end-faces on fiber optic connectors |
Accessories
| Model | Description |
| --- | --- |
| MFPOWERMETER | MultiFiber Pro Optical Power Meter |
| MFMULTIMODESOURCE | MultiFiber Pro Multimode 850 nm LED light source |
| MF1310SOURCE | MultiFiber Pro SM 1310 nm laser light source |
| MF1550SOURCE | MultiFiber Pro SM 1550 nm laser light source |
| TRC-MPO-PP-B | 1 m MM TRC, MPO/MPO, Pinned/ Pinned, Type B polarity |
| TRC-MPO-UP-B | 1 m MM TRC, MPO/MPO, Unpinned/ Pinned, Type B polarity |
| TRC-MPO-UU-B | 0.3 m MM TRC, MPO/MPO, Unpinned/ Unpinned, Type B polarity |
| TRC-SM-MPOAPC-PP-A | 1 m SM TRC, MPOAPC/MPOAPC, Pinned/Pinned, Type A polarity |
| TRC-SM-MPOAPC-UP-A | 1 m SM TRC, MPOAPC/MPOAPC, Unpinned/Pinned, Type A polarity |
| TRC-SM-MPOAPC-UU-A | 0.3 m SM TRC, MPOAPC/MPOAPC, Unpinned/Unpinned, Type A polarity |
| BKC-MPO-ULC | 1 m breakout cord for MM MPO Unpinned LC connector |
| BKC-MPO-USC | 1 m breakout cord for MM MPO Unpinned SC connector |
| SBKC-MPOAPCU-LCAPC | 1 m Breakout Cord for SM MPOAPC Unpinned LCAPC Connector |
| SBKC-MPOAPCU-SCAPC | 1 m Breakout Cord for SM MPOAPC Unpinned SCAPC Connector |
| ADP-MPO-A | Type A polarity MPO adapter for SM APC |
| ADP-MPO-B | Type B polarity MPO adapter |
| QuickClean-1.25-5P | Quick Clean Cleaner 1.25 mm Fiber, LC and MU, 5 pack |
| QuickClean-1.25-1P | Quick Clean Cleaner 1.25 mm Fiber, LC and MU, Single |
| QuickClean-2.5-5P | Quick Clean Cleaner 2.5 mm Fiber – SC, ST, FC, E2000, 5 pack |
| QuickClean-2.5-1P | Quick Clean Cleaner 2.5 mm Fiber – SC, ST, FC, E2000, Single |
| QuickClean-MPO-5P | Quick Clean Cleaner MPO Fiber, 5 pack |
| QuickClean-MPO-1P | Quick Clean Cleaner MPO Fiber, Single |
| NFC-KIT-CASE-E | Enhanced Fiber Optic Cleaning Kit – includes (1) Quick Clean Cleaner for 1.25 mm connector, (1) Quick Clean Cleaner for 2.5 mm connector, (1) Quick Clean Cleaner for MPO/MPO® cleaner, a solvent pen, a cleaning cube and a soft case |
| MS2-MAG-KIT | Magnetic Strap Attachment and spare holster |