The Road to a Category 8 Cable Tester
February 2, 2017 / General, Installation and testing
On January 23, we announced the DSX-8000 CableAnalyzer™, the first true Category 8 tester. You may be wondering what is required for a "true" Category 8 certification tester and why we launched it now.
First, interface adapters are required for practical use in the field. In other words, your tester needs a Cat 8 compliant plug or jack to connect to the cable you need to test. Not only do they need to support the required measurement bandwidth, but they also need to be rugged and easy to use. The DSX-8000 ships with both Permanent Link (plug) and Channel (jack) adapters that are capable of measuring the performance of Category 8 links to 2 GHz, as required by the standard. To get to this point, we had to develop a new measurement plug, and test it out with a variety of vendors of structured cabling systems to make sure it supports interoperability as required by the standard. Developing the "RJ-45" jack in the Channel adapter was even more challenging, as we had to work with a supplier to develop the world's first board mounted Category 8 jack.
Versiv Kit Configurator
How will you be using your Versiv?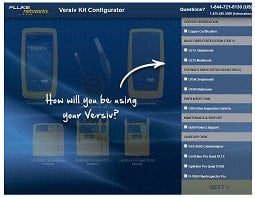 Second, it's not possible to produce a true Category 8 tester without knowing what the requirements are, especially accuracy. A tester can make any measurement at any frequency, but it has to be accurate to be useful. After the TIA-568 standard that defined the performance for Category 8 components came out, we had our eye on the ANSI/TIA-1152-A standard. This standard defines the accuracy requirements for field testers and how they are verified using laboratory equipment. After it was published on November 11, 2016, our engineering team set to work with Intertek to confirm the accuracy of the DSX-8000. Intertek (formerly ETL) provides third-party verification of the performance of cabling systems as well as testers. By the end of December 2016 – less than two months later – Intertek had verified that the DSX-8000 did indeed meet the new 2G accuracy requirements for Cat 8 testers. (See Intertek's letter here..) This also means that the DSX-8000 can certify everything from Cat 3 to Cat 8.
Third, one of the most important reasons that installers certify cabling is because it allows them to offer manufacturer warranties. This protects the installer and offers extra value to the customer. However, the manufacturer will not accept the certification from a cable tester they haven't checked out themselves. So, we provided testers to these manufacturers' labs so they could make sure it met their requirements. To date, nine manufacturers have endorsed the DSX-8000, with more to come. When installers begin certifying Cat 8 with the DSX-8000, they will be able to offer their customers these manufacturers' warranties. (See the endorsement letters here..)
The three technical factors above make the DSX-8000 the first real Cat 8 field tester. However, after 25 years in the cabling industry (and nearly 70 years in test and measurement), the only way we can meet our customers' expectations is to develop and deliver complete, standards-compliant solutions. And that's the real reason the DSX-8000 is the world's first true Cat 8 field tester.