LinkWare PC Installation Screens
LinkWare PC is a Windows-based software application used to review test results from Versiv/DSX CableAnalyzer, CertiFiber Pro, OptiFiber Pro, SimpliFiber Pro, MultiFiber Pro, and SimpliFiber Pro, LinkIQ. It can also be used to review a results (.flw) file from older Fluke Networks products.
Download the latest version here.
Note:
You most log in with an account with Administrator Rights in order to install the software successfully.
Recommended PC Requirements:
1 gigahertz (GHz) or faster, 32-bit (x86) or 64-bit (x64) processor
4 gigabyte (GB) RAM (8 GB recommended if viewing large numbers of OTDR traces)
Windows® 7, 8.1, or 10 operating system
Microsoft® Internet Explorer 8.0 or higher or other web browser. Viewing records exported to XML files requires a web browser that supports XML
PC monitor with minimum 1200 x 800 resolution
Appropriate USB or serial port to connect to your tester
Notes:
If you have an older 9.x version of LinkWare or LinkWare PC installed, it is recommended that you go to Add/Remove Programs and remove it prior to installing the current version.
We recommend Installing LinkWare PC on a PC with newest supported Operating System available (Windows 10 if possible).
Installation screens:
Check the box to accept the License Agreement, then NEXT as prompted.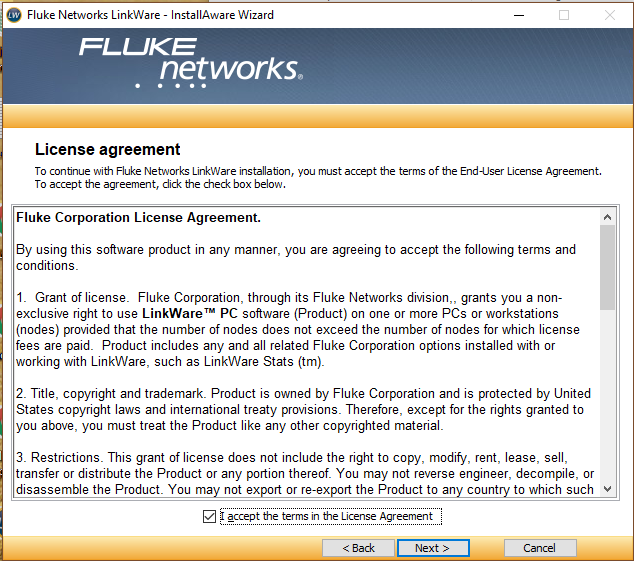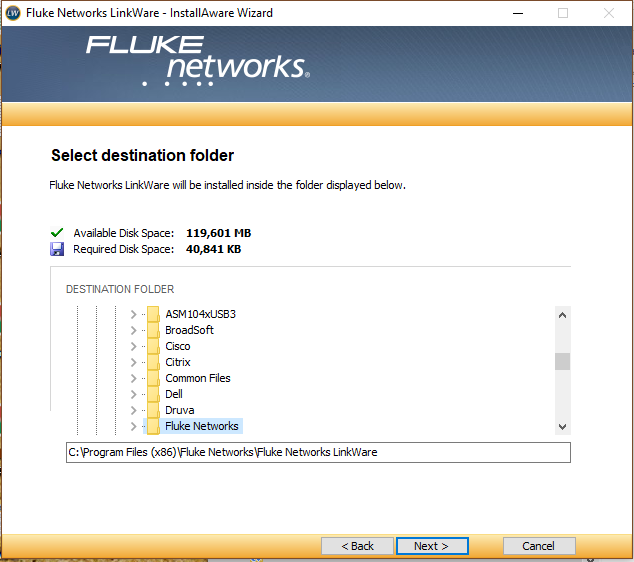 Click Finish.
Done.