Email Notification of Module Calibration Status - LinkWare Live
LinkWare Live will now send Calibration Status email notifications to the email addresses set for LinkWare Live Organization Owner, Manager, and Admin roles with the following details:
Project Activity Summary: Summary email to account owners with detailed calibration information on all Versiv assets (modules) connected to account, selectable at daily, weekly, or monthly frequency intervals.
Email will include project summaries and upcoming calibration dates, helping contractors manage vital calibration schedules
Notes: This notification only occurs for copper and fiber modules in results uploaded to LinkWare Live, and will not include other equipment you own whose results have not been uploaded to LinkWare Live. Also, assets that have not been used and/or results not uploaded to LinkWare Live for more than two years, will not be reported on.
Out of Calibration Alert: LinkWare Live will send you an email immediately if results are uploaded to your LinkWare Live Organization from a device that has not been calibrated within the past year.
Where is this controlled?
Log into LinkWare Live, click on the Organization name in the top right, click Account & Settings, and scroll down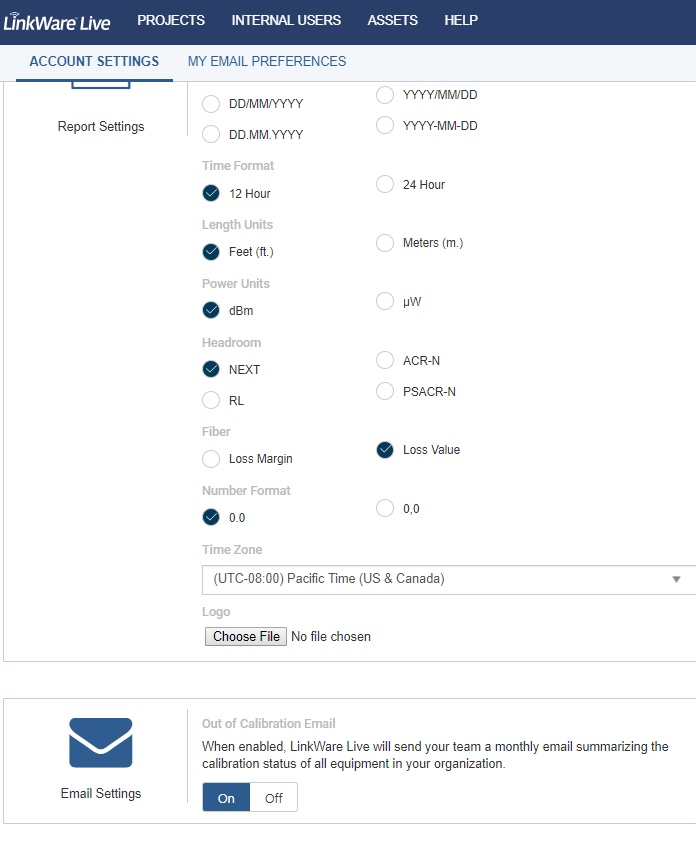 Where is email frequency controlled?
Click on MY EMAIL PREFERENCES