Unable to uninstall old version of Fluke Networks LinkWare
If you get this message: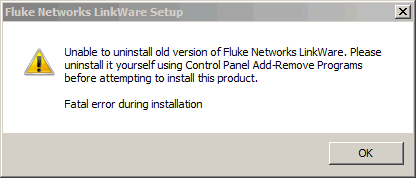 Your registry may be corrupted. You can download a utility from Microsoft that should fix this issue. When you run this Microsoft Utility, click Accept > Detect problems and let me select the fixes to apply > Uninstalling > Fluke Networks LinkWare > Next > Yes, try uninstall > Next. Once done, you should be able to install LinkWare.
If LinkWare PC is not listed in the uninstall options, you will need to choose "Not Listed" and then provide the product code below (including the hyphens and braces):
{4E473C9A-0550-4E1A-91A7-CA58E2F4DE83}