Editing Cable Information
There may be a time when the Cable ID or cable information desired in the record is different than how it was saved by the technician when the testing occurred. Here is how you can use LinkWare PC to make corrections. There is no modification of Cable ID information possible in LinkWare Live. In Versiv you may overwrite a cable ID, but to do so you must test and save the result to the same project, and confirm the overwrite. Failing results and marginal results will have a "Fix Later" button available to act as a punch-list for your second round of testing, if needed.
For data integrity reasons it is not possible to change pass or fail criteria, measurement data, nor Date and Time of the results.
Import results from LinkWare Live or the tester and save the LinkWare PC project.
Editing Cable Information
In the Record Properties dialog box, you can edit or add information that describes cables and outlets, such as the Cable ID, Outlet Location, Outlet Type, and Outlet ID, and specify the cable record as a Horizontal Record or a Backbone Record.
For optical loss records from SimpliFiber and MultiFiber Pro testers, you can enter the Length for cables.
Note: You cannot edit test results in LinkWare PC. The message "Unable to find" or "Unable to find or modify this text" appears if you try to search for or replace results.

To edit cable information for one record
Right-click on the record; then select Properties from the popup menu, or select Edit > Record Properties.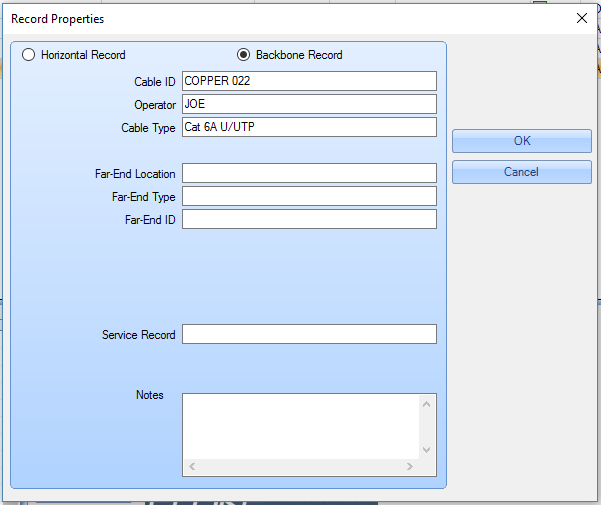 To edit cable information for multiple records
Select the records, right-click, then select Properties from the popup menu, or select Edit > Report Properties.
Note: When you enter length values for SimpliFiber or MultiFiber Pro records, do not enter the units (m or ft). If you do, the length shows as 0.0. Length is not a measured parameter in SimpliFiber Pro or MultiFiber Pro results.

Selecting Records in a List
To select two or more records from anywhere in a list
Hold down the Ctrl key while clicking on the desired records.
To select a block of records from a list
Click on the first record in the desired block; then hold down the shift key and click on the last record in the block.
To select all the records in a list
Type Ctrl + A.
To select all the records in a folder or project ("Select Records To Import" and "Select records to merge" dialogs)
Click in the checkbox to the left of the folder or project name or click the Select All Items In List button.

To search for and replace cable information
Select Edit > Replace.
You may also use Find and Find Next in the Edit menu to search for specific characters in the cable ID schemes.
Important: After you are satisfied with your changes, Save the LinkWare PC project.