Troubleshoot the Probe and Toner
Use the following steps to ensure the Toner and the Probe are working properly.
The IntelliTone Toner can be set to send analog or digital signal. The Probe can be set to receive either analog or digital signals.
You must set the signal type receive setting on the Probe to match the signal type transmit setting on the Toner for it to work properly. In other words, if the Toner is set to transmit digital signal, the Probe must be set to receive digital signals (Locate or Isolate) too.
Rotary Knob Controls:
The rotary knob on the IntelliTone 200 Pro Probe has five positions, with the far left position being OFF. Left to right, these are the knob settings:
OFF
Locate (digital)
Isolate (digital, more sensitive) - Used to isolate a pair in a multi-conductor cable
Analog (speaker icon)
Cable Map
Note: When set for Cable Map, the Probe will not pick up analog or digital tones,
and it is looking for input from its RJ45 port at its base.
Verify the Analog Tone Functionality: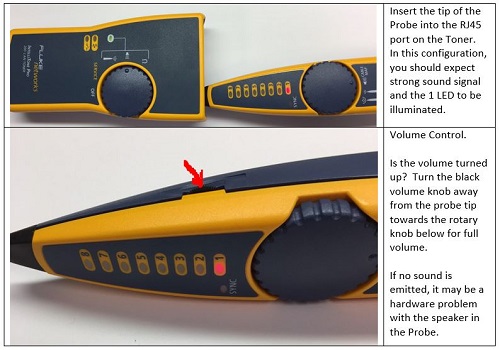 Verify the Digital Tone Functionality:
Serial Numbers:
Remove the battery cover and the battery to find the sticker with the serial number. It is typically 7 or 8 digits (all numeric).
How to Contact Fluke Networks:
If your IntelliTone Pro 200 set does not operate as described in this article, please contact Fluke Networks using one method below.