Project Test Set Limit is 10 Test Sets
Most users create a new project for each job.
A Project may be configured with up to 10 Test Setups. When you attempt to save the 11th Test Setup in one project, this warning shows on the display: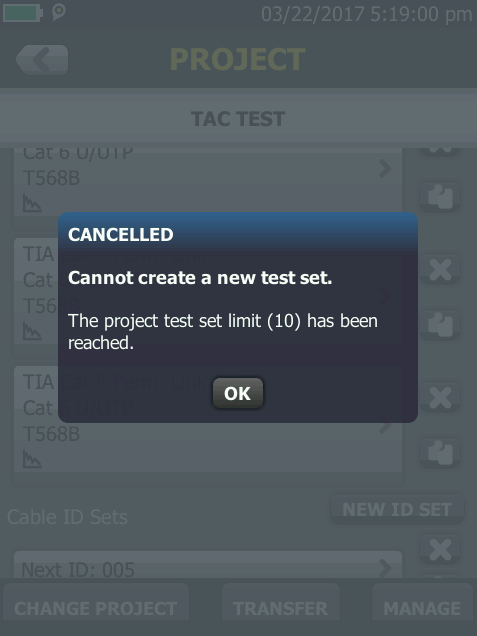 Tap OK.
To correct this, you can delete prior Test Setups that are not currently needed from the Project. Press the Home button, then tap on the Project at the top of the display. Scroll down under Test Setup and Tap the X to delete it. You will be asked to confirm the delete operation.
If you have less than 10 Test Setups configured in the Project, you may use the NEW TEST or Copy buttons to create a new Test Setup.
Copy keeps the same test limit as the Test Setup to the left of the Copy button.
The Project limit is 100 Projects on each Versiv mainframe. Any SubProjects configured in LinkWare Live count towards that 100 Project Limit.
Similarly, LinkWare Live limits each project to a total of 10 test setups among all the setups on the TEST SETUPS tab. For example, a project can have seven test setups with one twisted pair test each, and one test setup with three fiber tests, such as an OTDR, Loss/Length, and FiberInspector test, for a total of 10 test setups. LinkWare Live displays the number of test setups in a project as a proportion of the 10 maximum available test setups. When you attempt to accept results in LinkWare Live that would add an 11th Test Setup in one project, LinkWare Live displays a message indicating that these results cannot be accepted. To correct this, you can delete unused test setups from the project, or move current results from the current project to a new project.
See also SYNC Projects with SubProjects
All Videos in This Series