Ethernet Split Pair Error Detection – CableIQ
What is a split pair?
In the Telco/Datacom world, we treat the pairs as follows:
A common cause of a split pair problem is when the user does not realize that we treat 3,6 as a pair and 4,5 as a pair. They wire the link using the following pair configuration which seems logical to a non Telco/Datacom installer: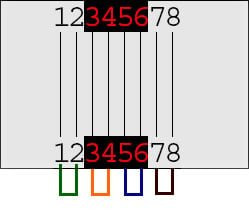 You often see this in "home made patch cords".
How does CableIQ detect a split pair error?
The CableIQ takes advantage of its DSP (Digital Signal Processor) to look in the time domain for excessive crosstalk. The term time domain indicates that we are looking down the cable and regular intervals to see the sources of crosstalk. Split pairs exhibit a large amount of crosstalk. They can also be detected using time domain reflectometry or just plain old frequency domain measurement.
CableIQ detected a split pair but qualified the link - why?
Click here to find out.
What is the minimum length for split pair detection?
The CableIQ will detect a split pair on a patch cord or link greater than 1 m / 3 ft.