What Ever Happened to Category 7?
December 5, 2018 / General, Standard and Certification, Industrial Networks
If you Google "What ever happened to," all the top search results have to do with past celebrities or that creepy 1962 Joan Crawford and Bette Davis thriller about Baby Jane.
And if you finish your Google search to ask, "What ever happened to Category 7," all you end up with is the hypothetical hurricane rating that one TV mini-series dubbed "the end of the world." In other words, Category 7 cable was apparently not popular enough to make the Google search cut.
But what really did happen to Category 7? Let's take another trip down memory lane.
A Busy Year
Category 7 cabling was ratified in 2002 in the ISO/IEC 11801 standard. Designed to meet strict Class F channel specifications for crosstalk and interference, it was a fully shielded S/FTP cable with foil shielding surrounding individual pairs and an outer braided shield surrounding all four pairs. Operating at 600 MHz, Category 7 was primarily introduced to support 10 Gigabit Ethernet over 100 meters. However, it's interesting to note that the 10 Gig Ethernet over copper standard, or 10GBASE-T, wasn't even published by IEEE until 2006!
2002 also proved to be a busy year within TIA. The ratification of Category 6 in June of that year was an event that the industry deemed a major milestone since it took nearly five years to complete and overcame several technical challenges to support Gigabit Ethernet. Right around that time, TIA also published the 607-A grounding and bonding standard and the 606-A administration standard, which gave us the much-needed guidelines for labeling everything from outlets and cables, to consolidation points, busbars and even firestop locations, and they published
While it likely had a little something to do with being such a busy year within TIA (there were also several other lesser-known standards published that year), Category 7 was simply ahead of its time, and with no application yet requiring it, TIA decided to not recognize Category 7. Hence, it saw little to no traction in the North American marketplace. There were however plenty of Category 7 deployments in countries like Switzerland and Germany where shielded cabling is the de facto standard due to tougher EMC regulations.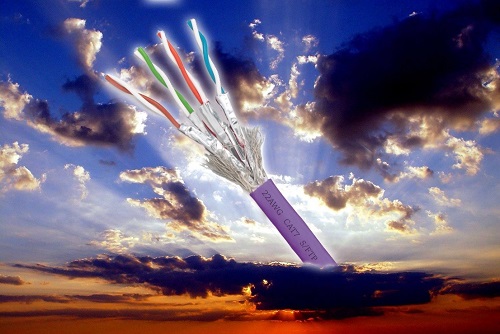 More to Share
Without a lot of attention in the industry, and overshadowed by the ratification of Category 6 and the first Category 6A systems introduced to the market just two years later (well ahead of its TIA ratification in 2008), it's easy to see why some might never have even heard of Category 7 – despite the fact that it was technically the only standards-based cabling system capable of supporting 10GBASE-T upon its release.
But that's not to say that Category 7 didn't have other benefits to share. Category 7 can be terminated with RJ45-compatible GG45 connectors or TERA connectors (stay tuned for more on these connectors in a future blog). The four-quadrant design of the TERA connector combined with the four individually shielded pairs of the Category 7 cable meant that more than one application could run over the different pairs – referred to as cable sharing. That meant that a single Category 7 channel could be configured to support 10/100BASE-T over just two pairs, leaving another two pairs for an additional 10/1000BASE-T channel, a VoIP channel or two 1-pair analog voice channels.
History Repeats Itself
Despite its cable sharing capabilities, Category 7 didn't have much of a chance. In 2010, ISO/IEC introduced Class FA channels and Category 7A cabling. Primarily intended to support future 40 Gigabit Ethernet over copper, Category 7A bumped the 600 MHz frequency of Category 7 up to 1000 MHz. Once again ahead of its time (since 40GBASE-T just became a standard two years ago), the 1000 MHz frequency and low delay skew made Category 7A ideal for CATV and other video applications requiring much higher frequencies. In fact, several AV equipment manufacturers specify Category 7A for use in their systems.
While also never recognized within TIA, Category 7A today has found its niche in AV and cable sharing applications, and it remains a popular choice for LAN cabling in parts of Europe – essentially putting an end to Category 7 as we know it (or as we didn't know it). Unfortunately, Category 7A's 1000 MHz performance didn't prove enough for 40GBASE-T, which IEEE defined on shielded Category 8 (TIA) and Category 8.1/8.2 (ISO/IEC) cabling specified to 2000 MHz. But rumor has it that it was a somewhat simple task to tweak the Category 7A cable design to meet Category 8 compliance since it was already fully shielded and well ahead of Category 6A in performance.