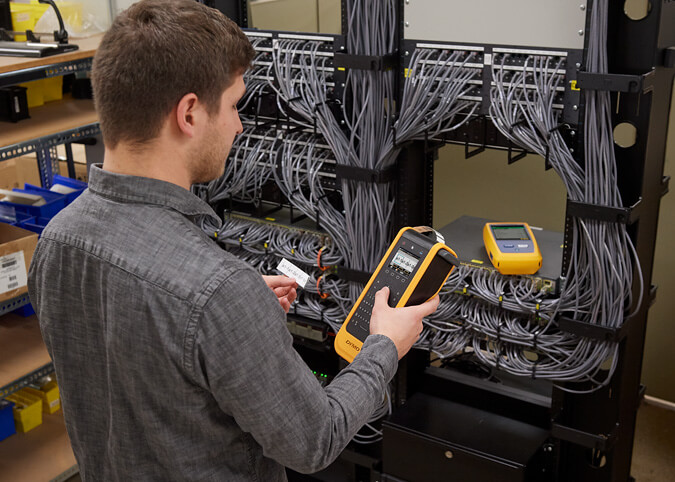 Easily access LinkWare Live projects from DYMO ID and import Cable ID data, with no need to manually enter data to create labels.
Quickly Import Data
Import data from a LinkWare™ Live account in just a few steps to eliminate manual entry, saving time and increasing productivity.
From DYMO® ID, easily access LinkWare™ Live projects, import Cable ID data, and use built-in label applications and pre-loaded templates to further simplify labeling tasks. Transfer label jobs to an XTL™ printer for on-the-job printing.
Benefits
Use Cable ID data with built-in label applications and time-saving templates for patch panels, wire/cable labels, and more.
Lifelike on-screen print preview shows exactly how labels will look when applied to cables, panels, and more.
Consistent software design between DYMO® ID software and XTL™ label makers makes it easy to transition between PC and label printer.
Works with Windows® 7 and later
DYMO ID available as FREE download from dymo.com. Access LinkWare Live at linkwarelive.com.
DYMO® ID software with LinkWare™ Live integration!
FAQs
How does the Fluke Networks and DYMO integration work?

DYMO ID can now access the projects you set up on Fluke Networks LinkWare Live cloud-based service. Sign into your existing LinkWare Live account and define Cable IDs and test settings. Use DYMO ID software to import the Cable IDs for your projects and easily print labels for patch panels, wires & cables.

How much does it cost?

Both DYMO ID and LinkWare Live are available for free. DYMO ID is available for download on dymo.com. LinkWare Live is available at www.linkwarelive.com .

How do I download the DYMO ID software?

To install the software

Download the latest version of DYMO ID™ software from the DYMO Web site at support.dymo.com.
Follow the instructions in the installer.

DYMO ID is PC compatible with Windows® 7, Windows® 8/8.1, Windows® 10
DYMO ID is compatible with XTL 300, XTL 500 and LabelWriter 4XL label printers. DYMO ID can also be used with a laser printer using the available XTL Sheet Labels.

What Fluke products work with LinkWare Live?

LinkWare Live works with all Versiv Models.

What types of labels can I print with DYMO XTL printers?

Laminated wire/cable wraps, heat shrink tubes, flexible cable wraps, indoor/outdoor vinyl, sheet labels. For applications such as Patch Panels, Wires & Cables and more.

I already have DYMO ID, how do I get the new LinkWare Live functionality?

If you are connected to the internet, DYMO ID will notify you if there is a newer version available and you will be able to update within the application. You can also check for updates from the DYMO ID menu > About.
Related Products