Tools and test sets for installing, verifying and maintaining voice, video and data services.
Voice, video and data installation starts with having the right tool. Fluke Networks offers the most reliable network installation tools on the market—each one designed to streamline the job and make you more productive. Our complete line of fiber connector termination tools and test sets meet the demands of technicians by providing reliability, maximum ruggedness, data protection and flexible options for every budget.
Click on tool sets below to learn more

Cut and strip wires and cables cleaner and faster with Fluke Networks' D-Snips™
New ergonomic design provides 1 – 1 ½ times the cutting force with half the effort
High-quality forged steel construction for strength and durability
File and scraper on both blades for cleaning wire
Notched blade for stripping 19-and 23-gauge wire
Cuts up to 16-gauge solid and 12-gauge stranded wire
Serrated blade for non-slip wire cutting

Cable strippers include double slotted, plenum, round, coax and combo.
Full line of cable strippers
Double-slotted stripper for 22/24 gauge wire insulation
Round cable stripper for a variety of flexible round cable
Coax strippers with two or three levels
Combo stripper for multiple wire types and applications

D914™ Series Impact Tools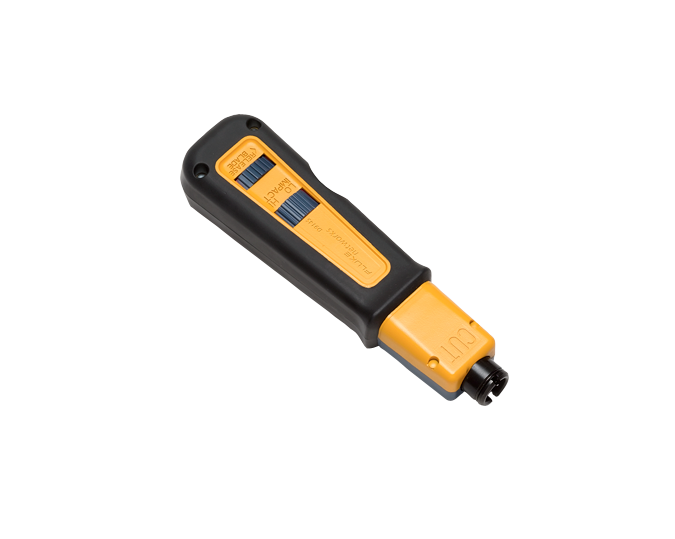 The versatile D914™ series impact tools include built-in probe pic/spudger and torque capability.
Industry standard, internationally accepted
Hook and spudger tools are built into the handle
Automatic spring handle --choose low impact for 24/26 gauge wire or high impact for 22-gauge wire
D914 and D914S impact tools accept Phillips-head or flat screwdriver blade
Convenient blade storage built into the handle
Adapter blade allows technician to use a variety of torque tool bits and sockets
Easy blade insertion, locks in place
D914STM soft touch impact tool features a rubber handle and special ergonomic design for better grip and to reduce hand fatigue

JackRapid™ Punchdown Tool
Patented jack termination tool allows you to terminate jacks 8 times faster.
JackRapid allows you to terminate jacks eight times faster than traditional impact tools. The patented design seats and terminates all wires simultaneously. Built-in blade cuts off the excess wire eliminating the need for a secondary trim step.
High-quality, consistent terminations—no more compromised connections and wasted jacks
Simple, one-handed operation with an ergonomically designed handle reduces hand fatigue
Built-in bed helps hold jack in place
Reduce user fatigue with its ergonomic handle and convenient, built-in stripper
Multiple versions available to support several jack manufacturers
| | | | |
| --- | --- | --- | --- |
| Most Popular | Models | Description | Buy Now |
| | JR-LEV-1 | JackRapid for Leviton 41106, 41108, 5G108 | |
| | JR-LEV-2 | JackRapid for Leviton 61110, 5G110, 6110G | |
| | JR-SYS-UNI-1 | JackRapid for MPS100E,C5,M1BH & UNJ600/500/300 | |
| | JR-SYS-2 | JackRapid for Systimax MGS400,MGS500,MFP420,MFP520 | |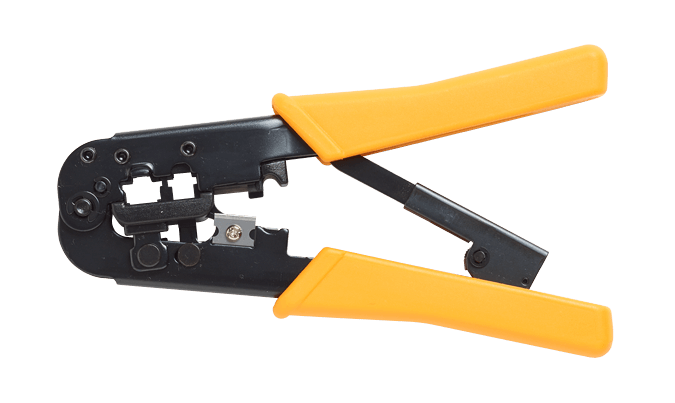 All-in-one crimping tool compatible with many 6- and 8- position modular telephone plugs.
Crimps 8-position RJ-45 connectors and 4-and 6- position RJ-11 and RJ-12 connectors
Embedded flat cable cutter and stripper

Need-L-Lock Crimping Pliers
Patented four-in-one tool combines the following:
Needle nose crimping pliers
UR/UY/UG connector crimper
Wire stripper hole for 22- to 24-gauge wire
Built-in side cutter
Rubber coated handles for non-slip grip

All the tools you need (in one pouch) to cut, strip, clean and make connections.
IS60 includes ergonomically designed Dur-a-Grip pouch for convenient tool storage on belt
D914S punch down tool for solid terminations, reduces hand fatigue and includes a built-in hook & spudger
Easy-to-use cable stripper quickly rings and slits many types of cable
Cut and strip wire cleanly and quickly with the D-Snips(TM)
Includes bright LED flashlight
Other termination kits available
| | | | |
| --- | --- | --- | --- |
| Most Popular | Models | Description | Buy Now |
| | 11293000 | Pro-Tool Kit IS60 with D914S Impact Tool, D-Snips, Cable Stripper, EverSharp 66/110 cut blade, Sharpie® & LED flashlight | |

Electrical Contractor Telecom Kits
These kits contain essential industry standard telecommunications tools and test equipment.
Choose either Kit I with TS®30 Test Set or Kit II with Pro3000 Analog Tone & Probe
D814 industry standard punchdown tool for reliable terminations
EverSharp 66/110 cut blade provides flexibility for different block and jack terminations
Cable Stripper quickly rings and slits many types of cable
Use the Probe Pic to check for loose or damaged connections
Cut and strip wire cleaner and faster with the Electricians D-Snips
Connect to jacks for testing with the standard 4-Wire Modular Adapter
A soft zippered pouch keeps your tools all in one convenient place
| | | | |
| --- | --- | --- | --- |
| Most Popular | Models | Description | Buy Now |
| | 11289000 | Electrical Contractor Telecom Kit II (with Pro3000 T&P Kit) | |
| | 11290000 | Electrical Contractor Telecom Kit II (with TS30 Test set) | |