LinkWare Live provides cable installation professionals the ability to manage projects, test results, and testers for unmatched job visibility and superior job control from anywhere at any time.

Leading companies worldwide have affiliated with Fluke Networks to leverage the ability of LinkWare Live to streamline the cabling installation and certification process. Read more about these solutions below.
Labelers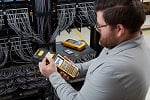 Easily print labels using data from LinkWare Live Solution on site when you pair it with the Brady Express Labels mobile app and a BMP61, BMP51 or M611 label printer. This app features wireless printing capabilities and easy-to-use formatting and sequencing options to minimize errors for quick and easy label creation.
Fluke Networks and Brother created the ILink&Label™ App for cable installers using Versiv™ testers and the Brother PT-E550W industrial labeler. It's the first truly integrated cloud-based solution for managing the test and labeling processes, results, and assets. ILink&Label is available free for iOS and Android.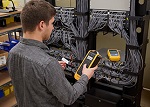 Now integrated with Fluke Networks LinkWare™ Live, let DYMO® ID help to further simplify cable label creation. Easily access LinkWare™ Live projects from DYMO® ID and import Cable ID data, without the need to manually enter data for label creation. DYMO® ID available as a free download from dymo.com.
The Epson Datacom app, when paired with the LW-PX400 printer, streamlines network installation labeling with simple-to-navigate menus, TIA-606-B or customized formatting, brand name patch-panel templates and is now upgraded to work with Fluke Networks' Versiv to quickly print wire and cable identification directly from LinkWare Live.