The Answers To Your Top Fiber Questions!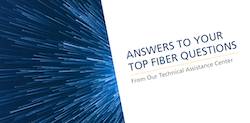 Get in-depth answers to some of the most common fiber optic testing questions that our Technical Assistance Team gets asked, including:
How do I calculate a loss budget?
Will my application run on this link?
How do I set a one jumper reference?
What is the best way to clean a fiber?
How do I locate a break or bend on my fiber?
And more!