How to prevent noise in high-speed Ethernet networks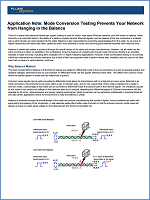 Learn how to achieve balance and avoid noise in high-speed Ethernet networks by accessing our new Application Note: "Mode Conversion Testing Prevents Your Network from Hanging in the Balance."
The paper explains why balance is so important to Ethernet performance, the latest methods for testing noise immunity and how to avoid alien crosstalk (AXT), Transverse Conversion Loss (TCL) and Transverse Conversion Transfer Loss (TCTL).
As you work to install and test high-speed network cabling, we are here to help.