Get Ready for PoE with Copper Cable Testers from Fluke Networks
Power over Ethernet (PoE ) used to be simple. It has become complex. New standards, like IEEE 802.3bt, are being ratified to ensure more power can be delivered over more pairs. However, adding these high-power signals to a cable carrying high-speed data places some additional requirements on the cabling.
Fluke Networks is ready to provide you all the cable testing and certification tools you need helping you assess:
Is the installed cable of good quality?

Is the installation compliant with industry standards?

Does the installation meet Resistance Unbalance requirements?

Does the modular plug terminated link (MPTL), the link that is terminated with a plug - instead of jack enabling a direct connection to the PoE device, meet the requirements?

Is the PoE device connected to a switch (up to 10 GBps)?

Is the Switch configured to provide enough power (Class # and available power)?
Cable testers and solutions to install PoE correctly and keep the PoE devices up and running effectively.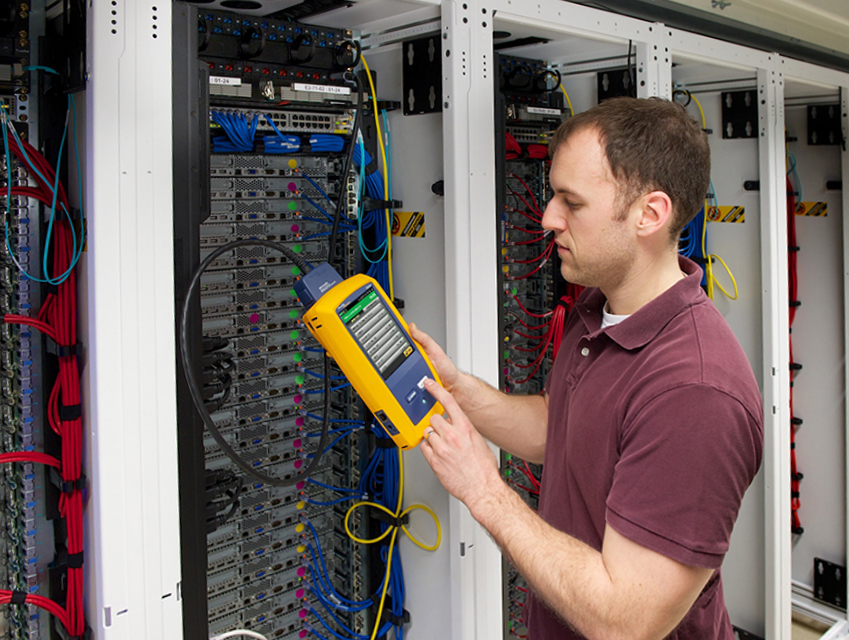 DSX CableAnalyzer™ Series Copper Cable Certifiers
Accelerates every step of the copper certification process.
DSX2-5000, DSX2-8000
Unmatched speed for Cat 6A, Cat 8, Class FA, I/II and all current standards.
ProjX™ system manages job requirements and progress from set-up to systems acceptance, making sure all tests are completed correctly.
Taptive™ user interface simplifies set-up, and eliminates errors.
Possibility to cut certification costs by 65%.
Compatible with Linkware™ Live cloud-based service.
MicroScanner™ Cable Verifier
The tool for installing and troubleshooting Ethernet cabling.
MicroScanner PoE, MicroScanner PoE-Kit
Provides fast, easy, and clear test & troubleshooting of network cabling powering IoT devices.
PoE Switch Verification - Determine if a switch port can provide enough power by reporting PoE class (0-8).
PoE Injector verification - Display injector voltage level.
PoE Testing - Simplified testing of voice, data, and video cable.
Active Switch Detection up to 10 GBps.
Get Ready for PoE
Cable testers and solutions for installing, maintaining and troubleshooting PoE.
DSX2-5000, DSX2-8000, MicroScanner PoE, MicroScanner PoE-Kit
All the features of the DSX and MicroScanner PoE Listed on this page.
Make me an offer
Ask for a personal quotation for your desired product(s).
Power-over-Ethernet White paper
A Guide to Successful Installation of Power-over-Ethernet.
Request a 1:1 Online Demo
Contact us for a 1:1 Online Demo to learn which Versiv configuration will best fit your needs.
Why Fluke Networks
Fluke Networks is the worldwide leader in certification, troubleshooting, and installation tools for professionals who install and maintain critical network cabling infrastructure. Since its founding in 1992, Fluke Networks has been driving Industry Standards and Acceptance Testing. Fluke Networks is a member or participant in 10 industry organizations and is endorsed by 28 cabling manufacturers worldwide. The Fluke Networks brand has a reputation for portability, ruggedness, ease of use and rigid standards of quality.
5 Reasons to choose a Fluke Networks cable tester.
Superior quality.
Pushing the boundaries of communication with LinkWare™ Live.
Legendary ruggedness and ease of use.
Cutting edge innovations make instruments futureproof.
Fluke Networks is part of Fortive (FTV) a component of the S&P 500.