Get the 2021 Salary Survey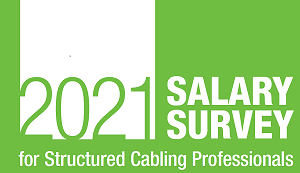 We conducted the survey in the Fall of 2020, and even though 2020 was a very different year for all of us, we thought the information would be interesting to know as we all get back to a new normal.

In partnership with Cabling Installation & Maintenance Magazine we launched this survey to US professionals to address the lack of pay data in the structured cabling industry. This survey not only answers the "how much should I pay/make" question, but also helps firms and individuals understand which segments, skills and certifications can lead to bigger profits and higher pay.
Download your 2021
Salary Survey Results