The last PentaScanner left the factory back on March 31, 2004. We regret to say support ended March 31, 2008. It's replaced by the Versiv familly of testers.

NVP (Nominal Velocity of Propagation) needs to be set correctly in the Pentascanner. The NVP is critical for giving accurate length measurements. The Cable Library has a number of cables listed that can be selected and has correct NVP preset. If the cable being tested is not listed, the user can set up a new cable in the Library with the correct NVP.


1. Get to the Edit Cables screen by pressing Cable (F1) from the READY Screen.





2. Press Edit (F2) to begin creating the custom cable.





3. Enter the Name of the cable and adjust the NVP for the cable that needs to be tested. This information can be obtained from the Manufacturers Datasheet of their web site.





4. When done editing the cable, press Save (F1) to store the new settings.





5. Press Default (F1) to make the new cable the default for testing.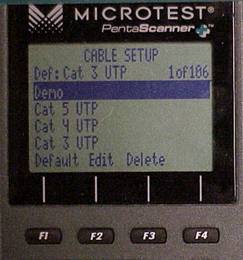 6. You will be taken back to the READY Screen and the cable will be set to the Demo Cable.