Registering your OptiFiber Pro
The first requirement to register a OptiFiber Pro (Versiv) is obtaining the latest version of LinkWare PC Cable Test Management Software. You can click here to download it. We recommend using the standalone installer version.
You will also need an account on www.flukenetworks.com - click here to create an account.
1. Once LinkWare PC is installed and your account has been created, you will need to verify that the software version on your Versiv main unit is up-to-date.
2. From the HOME screen, tap TOOLS > Version Information. Make sure that the version shown matches the latest Versiv firmware download, available here.
3. If it does not match the latest firmware, click here to learn how to update your Versiv.
4. Connect the Versiv to your PC via the supplied micro USB cable. (If this is the first time, allow the USB driver to install)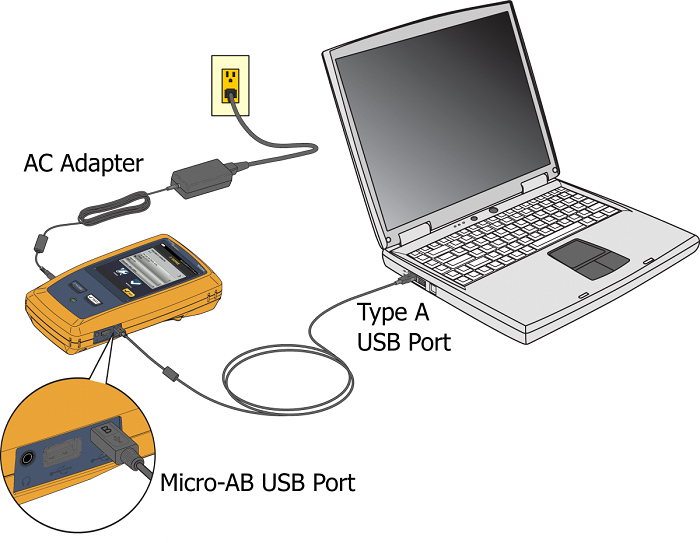 5. With LinkWare PC open, wait a few seconds for the Product Registration window to appear: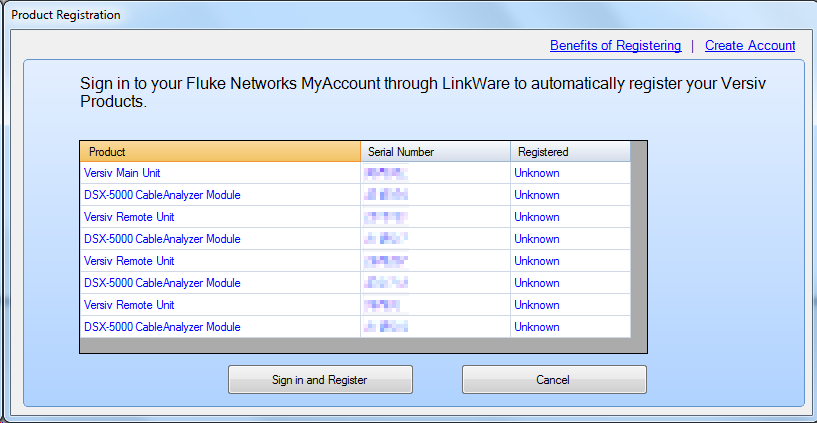 If it does not appear, click on Help > Product registration.
6. Click Sign in and Register and enter the email address and password for your www.flukenetworks.com account.
7. Once signed in, LinkWare should automatically register the connected products. If you bought the Bundled Gold Support, there should be a fourth column stating your gold support is in process.
Other Modules
If you have other modules that have been used with this Versiv main unit already, those serial numbers have already been logged into the internal memory of the main unit and will appear in the registration window above. The Versiv main unit tracks internally any modules or remote units it is connected to.
What if I get an error "Registration Service is Unavailable" and registration does not work?
Your corporate firewalls may be blocking the communication path from your PC to our registration server.
Check with your IT group and ask them to make exceptions for the ports and servers below. After that is done, try the registration again.
Other Registration Errors
If you have followed the steps above and still get an error message when attempting to register, please email the serial numbers and error message to: support@flukenetworks.com
All Videos in This Series