The last OMNIScanner left the factory back in July 2005. We regret to say service and support ended July 2009. It's replaced by the Versiv familly of testers.

There is a calibration date code on the OMNIScanner and the OMNIRemote.
To view these do the following:

OMNIScanner:
Press and hold the backlight button (located just above the ESC Key).
The contrast screen will come up and the date code is listed at the bottom.





OMNIRemote:
From the Main screen on the OMNIScanner, go to the Setup.
Press the arrow at the bottom of the screen to go to the second Setup screen.
Select Remote Info.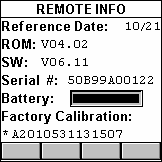 There are 2 different kinds of codes that have been used by Microtest. The one shown on the OMNIScanner section is the current one being used. It is interpreted as follows:

A2 is the Calibration fixture used
01 is the year calibrated
05 is the month calibrated
31 is the day calibrated


The older format is interpreted as follows:

1999 is the year calibrated
09 is the month calibrated
25 is the day calibrated