The last OMNIScanner left the factory back in July 2005. We regret to say service and support ended July 2009. It's replaced by the Versiv familly of testers.

When you run an Autotest in the field and get a Return Loss failure, this is what the screen will show.



Highlight the Return Loss failure and then press Enter.



You will see the data for the cable that was tested. The pair(s) that failed will have the X next to them. To begin the S-Band diagnosis, highlight the pair to test and then press the S-Band Diagnostic button
.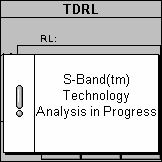 The OMNIScanner will begin to run the S-Band Diagnostics on the selected pair.



This graph shows that the failure is outside the S-Bands. This indicates that the failure is in the mated connection. The distance to the fault is also indicated as 6.5 feet (shown in the upper right corner). The screen on the left is from the OMNIScanner end and the graph on the right is from the OMNIRemote end.
This graph shows that spike is inside the S-Bands. This indicates that the failure is in the cable. A spike inside the S-band area is considered normal since the S-Bands look for impedance changes and there is a change at the connection. Once the location of the failure is determined, standard troubleshooting of the installation can be used. Return Loss failures at the connection can be caused by Impedance mismatches between the jack and the plug or poor termination. Return Loss in the cable can be caused by kinks, tight bends, cable ties and other similar deformations. It can also be a manufacturing defect in the cable itself.