The last OMNIScanner left the factory back in July 2005. We regret to say service and support ended July 2009. It's replaced by the Versiv familly of testers.

To delete Custom Projects from the OMNIScanner, you must first download and delete all stored Autotests in the OMNIScanner.

If the OMNIScanner has just one result stored in its memory (in ANY Project), you will not be able to be delete any Custom Project.

Once all test results have been downloaded and deleted from the OMNIScanner, from the Main screen, press the Setup Button

. This will take you to the Setup screen.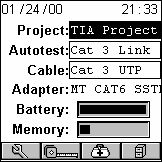 From the Setup Screen, Select #4 Projects and press Enter. The Projects screen will be displayed.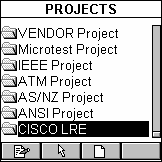 There are 4 Icons used on the Project screen. They are


The Edit Icon

The Set As Default Icon

The Create New Icon

The Delete Icon

The first 9 Projects listed are Default Projects and cannot be deleted. They can be renamed by editing them. The OMNIScanner can hold up to 16 Projects. Projects can be deleted if the Delete Icon
is visible (as shown below).




Once the Delete Icon is available, the Project can be deleted. If the Icon is not available, check to make sure that none of the Projects contain saved Autotest results.