The last OMNIScanner left the factory back in July 2005. We regret to say service and support ended July 2009. It's replaced by the Versiv familly of testers.

You need to know the NVP (Nominal Velocity of Propagation) and the impedance of the cable that you are creating. This information can be obtained from the cable manufacturer.

Power the OMNIScanner on. Press the Setup button

.





Select #3 Cables, from the Setup menu. Press Enter to see the Cables Menu.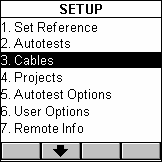 Highlight the Generic Folder and press Enter.





Press the Create New button

. Highlight the Name Field and then press Enter to begin editing.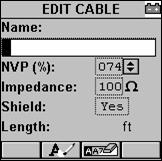 Enter the name for the Custom Cable. When done, press Enter.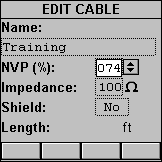 Move down to the NVP field and press Enter. Using the up and down arrows, adjust the NVP value to the desired value.
If the cable being created is shielded, set the Shield field to Yes.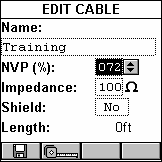 When done creating the Custom Cable, press the Save button
.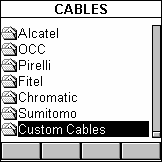 The cables that are created are stored in the Custom Cables Folder.
Highlight the cable to be used and press the Set As Default button
to set the custom cable as the default cable in the OMNIScanner.