Launch and Receive Fibers - DTX Compact OTDR Module
About Launch and Receive Fibers
Launch and receive fibers let the tester measure the loss and reflectance of the first and last connectors in the cabling. If you do not use a receive fiber, you will not being measuring the last connector. Using a receive fiber over comes that problem. An alternative to using a receive fiber is to measure from both ends.

If you are required to do Bi-directional Averaging, you will need to use a receive fiber.

Overall Loss and Length include the loss and length of the launch and receive fibers, unless launch compensation was enabled during the test.

Note:
Do not use hybrid patch cords to connect to the cabling under test. Connect the launch and receive fibers directly to the cabling under test, using a launch fiber with the appropriate connectors. This provides the best view of the connectors at the ends of the cabling. Hybrid launch fibers with various connector styles are available from Fluke Networks.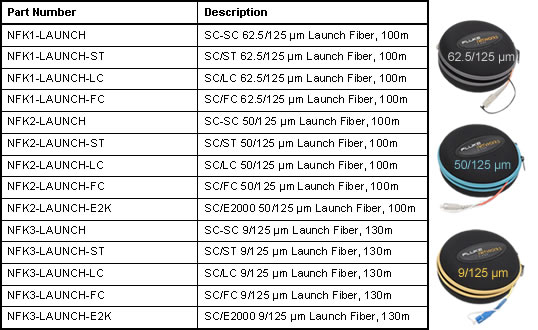 The receive fiber is the same as the launch lead. It is recommended to use 100 m for Multimode and 130 m for Singlemode for both launch and receive fibers.


Clean and inspect all end faces.
Connect the launch and receive fibers as shown below.


Rotate the dial to SPECIAL FUNCTIONS.
Highlight Set Launch Fiber Compensation and press ENTER.
Highlight Launch + Receive.
Press TEST.
The DTX CableAnalyzer will perform a Port Quality test, shown below:



It should always be perfect, as shown here. Anything less than perfect may compromise your measurement.
When completed, you will see a result screen - shown below:



You do not need to press SAVE, the result is saved automatically for you.
IMPORTANT: Press F1 to View Trace and verify the connection:



Looking at one of the end faces using the Fluke Networks FiberInpsector Mini, we see:



The fiber end face clearly needs cleaning. We recommend the Fluke Networks Cleaning Kit and not rubbing alcohol from your nearest pharmacy.

After cleaning the fiber, the Launch + Receive fiber compensation was carried out again, the result is shown below:



Compare this with the previous trace.
The reflection where the launch and receive fibers meet (0.0 m) is very small with no tailing.
Disconnect the launch + receive fibers in the middle and connect to your link under test (shown below):



Press TEST...............


The result in this example is shown below:






Do you have

LinkWare PC

installed on your PC? You do?

Download the above example

and review it in LinkWare.
Learn About:- OTDR