The analyzer provides graphical help screens to show you how to make proper fiber connections for testing. Since the connections are not the same for all types of adapters, you will want to select the adapter type to match the connector on the fiber links you will be testing. Selecting the adapter type will be particularly helpful when you are testing Small Form Factor (SFF) fiber optic links.

Rotate the dial to SETUP and press the F4 Page Down softkey until you find the adapter type setting.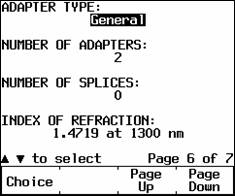 To modify the setting, press ENTER. The default setting for the adapter type is General. Use this setting if you are not sure what type of adapter you are testing.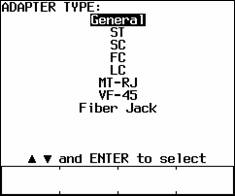 Note
Changing this setting will have no impact on the accuracy of the measurement or the calculation of loss budgets.