An example will best explain this.

Customer has asked that all fiber optic links shall be under 500 ft. The loss @ 850nm shall not exceed 2.25 dB. The loss @ 1300 shall not exceed 2.35 dB.

Rotate the dial to SETUP.





Press ENTER and change the CUSTOM TEST NAME. Scroll down to USE DEFAULT VALUES FROM and select General Fiber FTA410/20. You must use one of the three General Fiber selections.





Press F4 to go to Page 2 of 3. Here you can enter the loss and length values specified by the customer.





Press F4 once you have done this. Here you can change the INDEX OF REFRACTION this is the value used to measure length.





Now press SAVE.





Your custom setting has now been created. The final stage is to select it. Press F3 until you get back to Page 1.





Press ENTER and select your custom cable.





Once highlighted, press ENTER twice. The tester is now ready.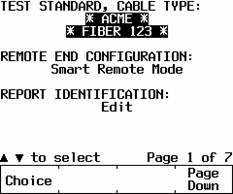 Rotate the dial back to AUTOTEST.