If you get either of the following error messages:

Error 120 Main Adapter Not Installed or Programmed Correctly
Error 120 Remote Adapter Not Installed or Programmed Correctly
The EPROM in the adapter which holds the calibration constants has become corrupted.

There are two ways to fix this.

Method 1: Using the optional DSP-PLCAL module, recalibrate the adapter. As a preventative measure, also update the software on the DSP-4x00.

Method 2: Update the DSP-4x00 to the latest software version along with

. Once updated, connect the DSP-4x00 to your PC and run the LinkWare PC Software. Hold down the Ctrl ALT and W keys on the PC. A new window will appear. Click on the Autobaud button. The wizard prompt will appear, as shown below:


At the wizard prompt, type nof and press the Enter key on your PC. You should see something similar to the screen below: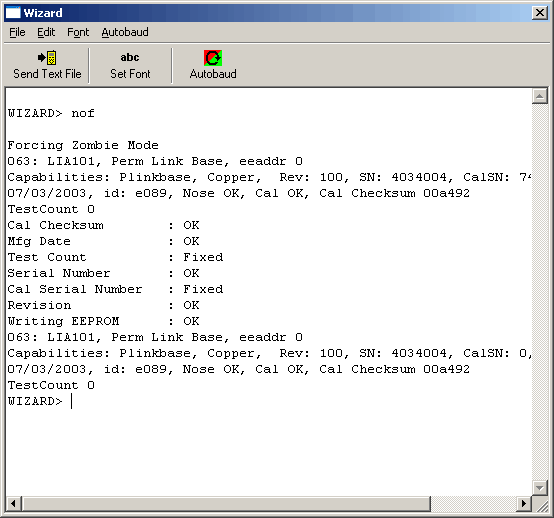 Your adapter has now been reprogrammed and the Error 120 message will no longer appear. You should not have to do this again. The latest version of software prevents this error from happening again. Please ensure all your testers are updated. Fluke Networks sincerely apologizes for any inconvenience this has caused.