The following tests are carried out in the DSP-100, DSP-2000, DSP-4000, DSP-4100 and DSP-4300:
Impedance: Measures the impedance of the cable.
Resistance: Measures the loop resistance of the cabling, shield, and terminator.
Length: Measures the length of un-terminated cables.
Anomaly Detection: During a coaxial cable test, the test tool also detects and reports the position of the largest impedance anomaly (if any are present) on the cable.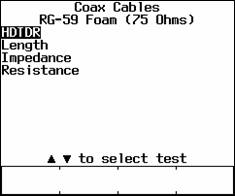 The following types of coax cable can be selected:




Note:
Due to a bug in an early version of software for the DSP-4x00, the coax test occasionally reported an anomaly at 0 ft. This has been fixed in the release version x.925. Please click here to download this free update.
Learn About:- Fiber Testing