Versiv Cabling Certification System- Everything you need to certify, manage and report on your cable installation projects
Versiv Kit Configurator
How will you be using your Versiv?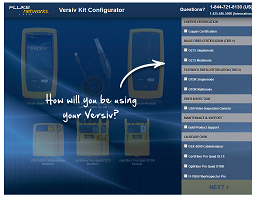 Versiv Cabling Certification System
Versiv™ modular design supports copper certification, fiber optic loss, OTDR testing and fiber end-face inspection
Taptive™ user interface provides simple, animated guidance to eliminate incorrect reference setup and "negative loss" errors
Analyze test results and create professional test reports using LinkWare™ Management Software
Compatible with Linkware™ Live. Linkware Live enables to easily track job progress, get real-time access to test results to quickly fix problems in the field, and easily transfer and consolidate test results from the tester to LinkWare™ PC Cable Test Management Software
Take a tour now! Use our Versiv Kit Configurator to see what the right configuration is for your certification test requirements.
DSX-5000 CableAnalyzer™ - Accelerates every step of the copper certification process
Unmatched speed for Cat 6A, Class FA and all current standards
ProjX™ system manages job requirements and progress from set-up to systems acceptance, making sure all tests are completed correctly
Graphically displays the source of failures including crosstalk, return loss and shield faults for faster troubleshooting
ETL Verified to IEC Level V – the most stringent accuracy requirement
Endorsed by cabling vendors worldwide
Built in Alien Crosstalk testing capability
CertiFiber® Pro Optical Loss Test Set - Accelerates every step of the fiber certification process

Fastest time to certify – two fibers at two wavelengths in three seconds
Encircled Flux compliant as required by ANSI/TIA and ISO/IEC
Merged Tier 1 (Basic) / Tier 2 (Extended) testing and reporting when paired with OptiFiber® Pro
ProjX™ management system ensures all jobs are completed correctly and efficiently
Provides automatic Pass/Fail analysis to industry standards or custom test limits
Double ended Pass/Fail certification of fiber optic connector endfaces
Graphical indication of problem areas on fiber endfaces due to contamination, pits, chips and scratches
Convenient quad module supports both multimode and singlemode loss testing
Extended singlemode distance range to 130km
Built in Visual Fault Locator
OptiFiber® Pro OTDR - Built for enterprise fiber optic cabling testing
Industry's shortest event and attenuation dead zones
Accelerate fiber certification with the fastest set-up and trace times
SmartLoop™ technology enables the testing of two fibers in a single test eliminating the need to travel to the far end of the connection to perform tests.
Instantaneous bi-directional averaging results included at no charge
Improve resource utilization with custom configurations for projects and users
Simplify use with "DataCenter OTDR™" mode and EventMap™ view
FI-7000 FiberInspector™ Pro - 1-second automated PASS/FAIL certification of fiber optic connector end-faces

Automated Pass/Fail certification of fiber optic connector end-faces
Graphical indication of problem areas due to contamination, pits, chips, and scratches
Certify to industry standards - IEC 61300-3-35
Eliminate human subjectivity from fiber optic connector end-face measurements
Save fiber optic connector end-face views during certification process
Versiv™ modular design supports copper certification, fiber optic loss, OTDR testing and fiber end-face inspection