Trade in your old tester for Versiv™ and get
Up to $5,500 Now
Plus Up to a 10% Boost in Profits



For a limited time, get up to $5,500 in cash back when you purchase a Versiv Cable Certifier and trade in your old one. To make it easy, we'll accept any DTX or other Cat 6 tester – the rebate's based on what you buy, not what you trade in. Just purchase one of the models below between September 1 and December 23, 2016, send in a qualifying tester by January 31, 2017, and receive a rebate for the amount below:

Models
Trade-In Rebate
DSX-5000
CFP-100-Q
OFP-100-Q
OFP-100-Qi
CFP-100-Qi
$2,000
DSX-5000Qi
DSX-5000Oi
OFP-CFP-Qi
$3,500
DSX-5000QOi
DSX-5000-PRO
$5,500

The more you use Versiv and LinkWare™ Live, the more you can add to the bottom line. Contractors who add Versiv to their fleet report a 15% reduction in problems and an increase in profitability of seven percent. Contractors who have upgraded more than half of their fleet cut problems by two thirds and boost their bottom line by ten percent*.

Click on the image below to find out more.


*Survey of 219 contractors
To get your rebate:
Versiv Kit Configurator
Find the model that's right for you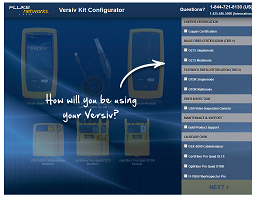 Step 1: Purchase an eligible Versiv tester between September 1, 2016 and December 23, 2016
Step 2: Download and print out the rebate claim form here: (Australia | New Zealand). Follow the instructions and submit your claim form by December 31, 2016.
Step 3: Ship your eligible trade-in units and a copy of your invoice to Fluke Networks by January 31, 2017.
Step 4: Fluke Networks sends your rebate as shown above.
Download Rebate Claim Form:
Terms and conditions:
Offer valid in Australia, New Zealand and Papua New Guinea only. Australia and Papua New Guinea customers will receive the rebate in AUD and New Zealand customers will receive the above amount in NZD. Limit of one trade-in per unit purchased. The Fluke Networks' qualifying product/s must be purchased in new condition from an authorised distributor between 1st September and 23rd December 2016. To be eligible for the September "Earlybird" special, customers must purchase between September 1st and September 30th, 2016. This promotion is subject to change at any time.This promotion may not be used or combined with any other promotional offer from Fluke Networks or its distribution partners. All submissions will be subject to validation by Fluke Networks. Fluke Networks reserves the right to refuse any claim. Please allow 8-10 weeks for the rebate to be processed after receipt of the trade-in and priced and dated invoice. A dated invoice with a completed rebate form must be included in the submission to be eligible for the rebate. All submissions are subject to verification and audit. Submissions received after January 31, 2017 are void and will not be processed. Any taxes/fees for free product are the responsibility of the receiver. This offer is not available to Fluke Networks' distributors, Fluke and Fluke Networks' sales staff, or Fluke Networks' service centers. Fluke Networks, its distributors or its service centers are not responsible for late, lost or misdirected submissions. Visit www.flukenetworks.com/ GSGV-rules for a full list of qualifying products and to download your rebate submission form. Contact Jeff Hardman ([email protected]) or your Authorised Distributor with questions.