Get it right the first time
CertiFiber® Pro & OptiFiber® Pro ensure fiber testing and troubleshooting jobs are done right first time, saving you time, money and having to run around.
Question?
| | | | | |
| --- | --- | --- | --- | --- |
| Download our White Paper on Executing Highly Accurate Fiber Measurements | | Download our whitepaper on ENCIRCLED FLUX: Real or Imaginary? | | Download our Application Note on Instant insight in your Fiber Infrastructure |
Check out the Versiv™ benefits
ProjX™ Management System Ensures project planning and instruction setup are done correctly
Taptive™ User Interface SmartPhone UI simplifies setup & eliminates operator error
LinkWare™ Management Software Analyzes results & creates test reports
Check out the solutions for Copper testing and certification
Learn more about the State of the Cabling Industry and what it takes to succeed in the face of an exponentially greater need for cabling contractors to manage multiple environments, media, standards, and technologies.
Visit the Cabling Chronicles Blog
The blog on Copper and Fiber cabling Industry news, industry standard changes and updates, customer insights and shared learnings.
Talk to an Expert
if you would like to talk to an expert to help determine the best choice of cable tester for your application, the please leave your details here and we will contact you.
The business case for Versiv™
Versiv designers talk about the problems that reduce contractors profitability and how Versiv is designed to eliminate them.
DSX-5000 CableAnalyzer™
Most advanced copper certification tester
Unmatched speed for Cat 6A, Class FA and all current standards
Achieves new levels of standards compliance that prevent application issues and eliminate call-backs
Surpasses IEC Level V: the industry's most stringent accuracy requirement
CertiFiber® Pro OLTS
Fast and simple fiber certification
Fastest time to certify – two fibers two wavelengths in 3 seconds.
Full Encircled Flux compliance, required by ANSI/TIA and ISO/IEC
Allows Merged Tier 1 (Basic) /Tier 2 (Extended) testing and reporting
OptiFiber® Pro OTDR
Accelerates fiber troubleshooting and certification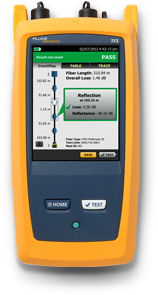 Industry's shortest event and attenuation dead zones
Accelerate fiber certification with the fastest set-up and trace times
EventMap™ view negates the need for TDR Trace Analysis
FI-7000 FiberInspector™ Pro
2-second automated PASS/FAIL certification of fiber end-faces
Graphical indication of problem areas due to contamination, pits, chips, and scratches
Certify to the IEC 61300-3-35 industry standard