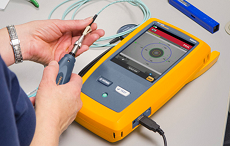 A fiber network failure or latent problems can cost millions to a large data center or enterprise. While the IEC 61300-3-35 standard can be used as a guideline for manually inspecting and fixing the issue, manual procedures can be time consuming and inaccurate.
Instead of relying on manual assessment, automated certification solutions can automatically and quickly inspect, grade and certify fiber end-faces based on the criteria of the IEC standard. These types of devices eliminate human subjectivity and result in faster, more accurate and repeatable results to help ensure optimum fiber network performance.
Download the Standard-Compliant Certification whitepaper to learn more about the automated certification solutions and how they can help you inspect and certify end-faces in 2 seconds or less.