Cabling Mistakes #9: Rely on Duplex Tester for MPO Cable Certification
January 7, 2016 / General, 101 learning, Installation and testing, Upgrading and troubleshooting, Best Practices
While the smart people who install, test and certify network cabling plants know the importance of meeting standards performance parameters and ensuring application support, even the best of us can make mistakes that adversely impact the bottom line and customer satisfaction.
Let's take a look at the #9 Dumb Thing that smart people do when testing network cabling systems—relying on a duplex tester for certifying MPO trunks.
Now the Challenging Norm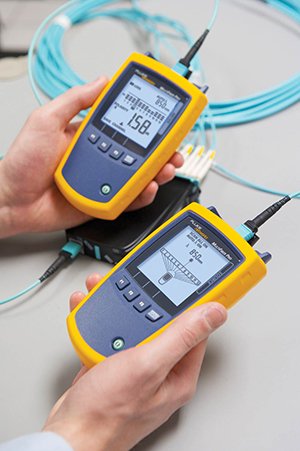 With the growth of big data, virtualization and higher bandwidth speeds in data center fiber backbone links to 40 and even 100 Gbps, most data centers today are standardizing on multi-fiber push-on (MPO) connector solutions. While required testing of these 12-fiber MPO connectors may have been limited in the past, it is now the norm in the majority of data center installations. Field testing is the only way to ensure that MPO links meet the application performance requirements.
Despite the fact that pre-terminated MPO fiber cables are manufactured and tested by vendors to comply with ANSI/TIA and international standards, there are many factors that can potentially impact performance. First of all, MPO connectors are harder to clean than duplex connectors. The 12-fiber MPO interface features an array with a much larger surface area, which unfortunately makes it easier to move contaminants from one fiber to another within the same array during the cleaning process. 40 and 100 Gbps MPO fiber applications also have much lower loss budgets so it's important to ensure the highest testing accuracy as possible.
The Problem with Duplex Testers
It seems only logical that testing a 12-fiber MPO fiber link with a duplex tester would be time consuming. In fact, it requires about 15 steps with a 3 jumper method and the use of MPO to LC fan-out cords that separate the 12-fiber cable into single fiber channels (or LC-MPO cassettes can be used if they have no more than a total loss of 0.35dB).
To test MPOs with a duplex tester, technicians first need to verify and set the SC-LC and LC-LC test reference cords. A third LC test reference cord then needs to be verified, set and removed before even connecting to the first pair of fibers on the MPOs—and there are 5 more pairs to be tested on both ends.
Versiv Kit Configurator
How will you be using your Versiv?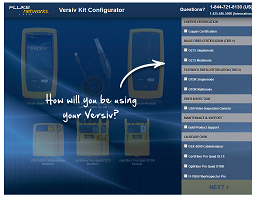 Not only is there a good chance that technicians pressed for time in the field will not follow all 15 steps, but the complex, time-consuming process inherently lends itself to the potential for greater inconsistencies—and it makes it more difficult to keep all the connectors clean during the process.
A Better Way
Testers with an on-board MPO connector take the complexity, time and inconsistency out of MPO testing—eliminating the need for the fan-out cord or cassette. Fluke Networks' MultiFiber Pro is the first tester to offer this functionality with the ability to scan all 12 fibers simultaneously and display test results in an easy-to-read bar graph. The MultiFiber Pro even has the ability to identify each fiber of the MPO, providing more precise, per-fiber data and reporting to improve MPO connector verification and troubleshooting.
MultiFiber Pro even has the ability to test for correct polarity, which ensures a continuous connection from the transmitter to the receiver and requires patch cords with different polarity types depending on the chosen polarity method. MultiFiber Pro allows the user to test individual patch cords, permanent links, and channels for correct polarity—without needing prior knowledge of the link's polarity.
The next time you think a duplex tester will suffice for your MPO testing, keep in mind that the innovative features of the MultiFiber Pro will eliminate the complexity and allow you to test 90% faster. And if you only have one MPO job for now, you can still save all that time by renting one – call us and we'll set you up!